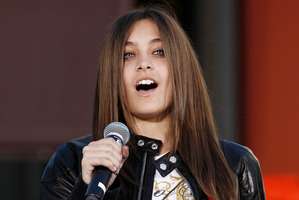 Michael Jackson's 15-year-old daughter, Paris, was hospitalised after attempting to kill herself, according to her family.
The only daughter of the late singer was taken on a stretcher from her home in Calabasas, California, following an emergency call at about 1.15am local time. She is expected to make a full recovery, according to several reports.
In a post to her Twitter account about four hours earlier, she wrote: "yesterday, all my troubles seemed so far away", quoting from Yesterday, the 1965 Beatles song. Debbie Rowe, Paris' mother, reportedly confirmed to Entertainment Tonight that she had attempted suicide, telling the magazine that she had "a lot going on".
The magazine also reported that the 15-year-old was unhappy at not being allowed to attend a rock concert featuring Marilyn Manson and Alice Cooper earlier in the evening in Los Angeles.
June 25 will be the fourth anniversary of the death at 50 of Paris' father.
She had been listed as a potential witness in the US$40 billion ($50 billion) lawsuit brought by the Jackson family against AEG, the concert promoters who organised a farewell tour for Michael Jackson in 2009.