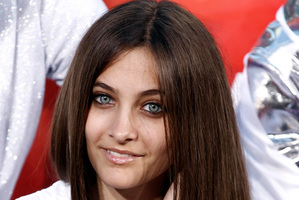 The 15-year-old daughter of Michael Jackson is physically fine after being rushed to hospital after a possible suicide attempt, an attorney for Jackson's mother says.
Perry Sanders Jr. writes in a statement to The Associated Press that Paris Jackson is getting appropriate medical attention and the family is seeking privacy.
"Being a sensitive 15 year old is difficult no matter who you are," he wrote. "It is especially difficult when you lose the person closest to you. Paris is physically fine and is getting appropriate medical attention. Please respect her privacy and the family's privacy."
Sanders declined further comment on Paris' condition or the circumstances that led to her hospitalisation.
Fire and sheriff's officials confirmed they transported someone from a home in Paris' suburban Calabasas neighborhood for a possible overdose but did not release any identifying information or additional details.
A sheriff's spokesman said officers had responded over a "medical situation," but refused to confirm the identity of the person taken to hospital.
TMZ reported Paris was taken out of her Calabasas family house on a stretcher, after a 911 call reporting a possible drug overdose.
A source close to Paris told TMZ - which famously broke the news of Michael Jackson's death in June 2009 - that she has "tried this in the past".
"This was far more serious. It was not a cry for help," said the source.
Jackson has expressed interest in acting and frequently posts messages about her life on Twitter.
Her latest post was from the Beatles' song Yesterday: "Yesterday, all my troubles seemed so far away now it looks as though they're here to stay."
A 20-minute video of the teen applying makeup was posted to YouTube last week. Paris says on Twitter she doesn't know how the video, in which she repeatedly asserts, "I am so weird,'' ended up on the site.
"I hope you guys liked it tho and didn't think i'm too crazy," she wrote. "i get weird when i'm not around people lol."
Paris - Jackson's middle child, along with older sibling Prince and younger brother Blanket - has made a start in the entertainment industry, starring in the film Lundon's Bridge and the Three Keys, in development.
Her grandmother Katherine is currently in court in Los Angeles, suing the promoters of Jackson's last doomed tour for negligently hiring doctor Conrad Murray, who was convicted in 2011 of involuntary manslaughter over his death.
Where to get help:
• Lifeline: 0800 543 354 (available 24/7)
• Suicide Crisis Helpline: 0508 828 865 (0508 TAUTOKO) (available 24/7)
• Youth services: (06) 3555 906
• Youthline: 0800 376 633
• Kidsline: 0800 543 754 (4pm to 6pm weekdays)
• Whatsup: 0800 942 8787 (noon to midnight)
• The Word
• Depression helpline: 0800 111 757 (available 24/7)
• Rainbow Youth: (09) 376 4155
If it is an emergency and you feel like you or someone else is at risk, call 111.
- AFP