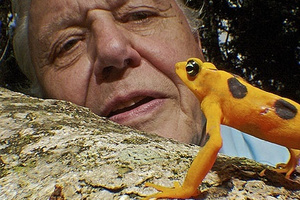 Veteran broadcaster Sir David Attenborough has undergone surgery to insert a pacemaker.
A spokesman for the 87-year-old naturalist, who was forced to cancel a sell-out speaking tour of Australia because of the "urgent'' procedure, said doctors believed that the TV star was doing well.
"Sir David has now had the operation and his doctors are satisfied with his progress," he said.
Earlier, he said the documentary-maker, who has been named Britain's greatest living national treasure, was still his "lively self".
"It's a minor procedure but it meant that he cannot go on a 27-hour flight to Australia," he said.
"He's very disappointed that he can't fulfil the tour but it's nothing to be alarmed about.
"He's seeing his doctor now but he's still his lively self."
News of the procedure was issued in a statement by the company promoting the tour in Australia, Sir David Attenborough: A Life On Earth.
"Sir David Attenborough is to undergo surgery in London today following advice from his cardiologist that he is in urgent need of a pacemaker," Lateral Event Management said.
"It is with regret, therefore, that Lateral Events CEO Simon Baggs announced that the forthcoming sell-out tour of Australia, scheduled to begin in Brisbane next week, has been cancelled.
The company said it would discuss rescheduling the tour following the surgery, while BBC director of television Danny Cohen also sent a message of support, saying: "We all wish Sir David a full and strong recovery."
Sir David, whose groundbreaking programs have included Blue Planet and Frozen Planet, recently narrated and presented the hit BBC1 series Africa.
He also presented a new BBC Radio 4 series, Tweet Of The Day, devoted to birdsong.
The wildlife star said recently that he had no intention of doing less, saying: "I've been broadcasting for 60 years. I don't want to slow down. Retirement would be so boring."
- AAP