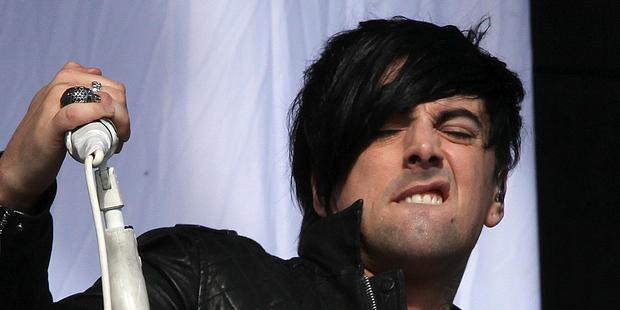 Lostprophets frontman Ian Watkins has denied 23 charges of sexual offences against children, including two counts of raping a baby.
The 35-year-old singer and two woman appeared via video link in Cardiff Crown Court today.
He denied two charges of raping a baby, a charge of conspiring with one of his co-accused to sexually assault another child and various other sexual offences.
The two woman, aged 24 and 20, also denied committing sexual offences against children.
Their alleged offences date back to 2007.
Another hearing is scheduled to take place on June 6.
Watkins was arrested in December.
In March, he issued a statement from his solicitor denying all charges.
It said: "Mr Watkins furiously denies all of the charges and allegations made. He intends to fight to the bitter end to clear his name. He wishes to thank the fans, family and friends for the constant love and support they have given and continue to give throughout this testing time."
Watkins' bandmates released a statement after his arrest expressing shock at the charges.
"Following charges made today against Ian Watkins, we find ourselves in a state of shock. We are learning about the details of the investigation along with you. It is a difficult time for us and our families, and we want to thank our fans for their support as we seek answers."
Lostprophets performed at the 2004 Big Day Out.
They were formed in 1997 and have released five albums, including the hit Liberation Transmission in 2006.
Their most recent album Weapons was released in April this year.
- nzherald.co.nz