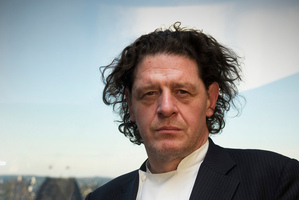 Tomorrow is the final of MasterChef. There will no doubt be tears and fear and stress and inspirational messages about winning, and even some cooking. I managed to avoid watching a single episode until the semifinal, which I thought I'd better watch because I have developed an interest in the addictive nature of television.
Nobody could accuse me of being out of touch with what's hot in cooking, or on the box. Is this stuff still hot? It seems so because it seems there is no end to this stuff.
I also watched (some of) an episode of MasterChef : The Professionals - Australia (TV One, Fridays, 4.25pm). Addictive? It's about as enticing as cold tripe on toast for tea.
I ought to be addicted to cooking TV. I have far too many cookbooks and plan to have far too many more and I subscribe to Cuisine magazine and I have an email penpal with whom I swap recipes almost weekly. I may even have been known to (Christ) take pictures of "What I Cooked For Xmas" and of the Easter Buns, although, as I have also failed to become addicted to Facebook (easy: don't have a Facebook page), I have nothing to do with these riveting pics except email them to my kind and long-suffering email penpal.
Are the people addicted to cooking TV foodies, perhaps? What the hell's a foodie, anyway? Someone who eats food? That'd be everyone except those poor kids who go to school on empty stomachs. I bet they aren't addicted to food TV. Or maybe they are. I don't know. Because, who is addicted to this stuff? Chefs? You'd think they'd be a bit busy, cooking.
Marco Pierre White, one of the judges on the Australian show, is introduced as the man who made Gordon Ramsay cry. About 100 years ago and, wow, what an achievement! He is also introduced as "the Godfather of modern cooking". He certainly looks ... moody. That may just be the lighting.
On our MasterChef semifinal, the last three had to cook a French cafe degustation menu for two of the judges and 10 of the country's top chefs. They were described as "New Zealand's cheffing mafia".
They were all men. When I earned my crust burning crusts for other people (about 100 years ago), the mostly male cooks were terribly macho and were always having chopping contests and throwing tantrums and knives at walls. But they were mostly drunk (I worked in joints rather lower than French cafes), so at least they had an excuse of sorts.
How did cooking get so po-faced? At the dinners on MasterChef nobody speaks. They sit there, tasting their food with the sort of concentration you imagine those poor sods who were tasters of dinners for kings and popes in case of poison felt before they had to turn up with their tasting spoons.
Food is a competition, "an almighty challenge". It's tears and stress and having the winning attitude.
No it's not. It's just cooking, which is a lovely thing to do for people - or used to be - and making food to share over a table and conversation. Now it is addictive telly but I don't know who is hooked, or why.