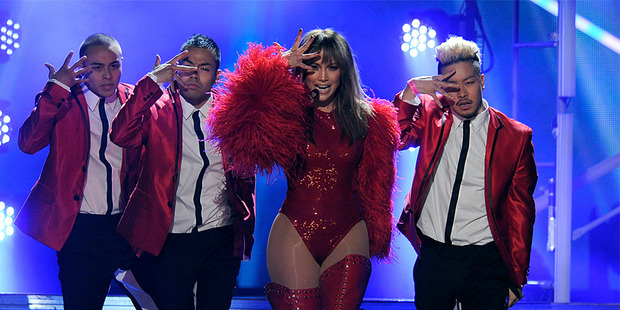 Jennifer Lopez's raunchy performance on a UK TV talent show has drawn complaints from viewers about her skimpy outfit and provocative dance moves.
Lopez took to the stage during the Tuesday night episode of Britain's Got Talent for a performance of her new track Live It Up wearing thigh-high leather boots and a skimpy black leotard which showed off her backside.
Viewers immediately took to Twitter to blast the star's risque routine and sexy outfit on what is billed as a family show, insisting her performance was inappropriate for children.
In one post, a viewer wrote: "Jennifer Lopez put some clothes on, (Britain's Got Talent) is a family show, what sort of role model are you being for the young girls watching?" while another quips, "Disgusting that Jennifer Lopez showed off quite so much on a family show. Sad".
British broadcasting industry regulator Ofcom received around 30 official complaints from disgruntled viewers.
"Ofcom can confirm that it has received complaints about the Britain's Got Talent broadcast last night, which we are assessing but not currently investigating," a spokesperson for the organisation says.
- WENN