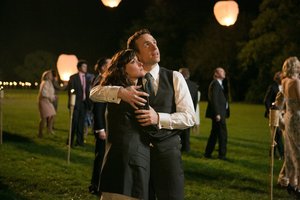 An upset moviegoer has won back the price of their ticket after complaining that three scenes were cut from the romantic comedy I Give It A Year.
The unhappy customer complained to the Advertising Standards Authority that the movie's two minute and 28 second-long trailer shown on YouTube and flicks.co.nz featured three scenes that did not make the film's final cut.
The complainant, named by the ASA as L. Wickham, said they were disappointed not to see "the happy 10-day anniversary scene'', "the I'm never going to see another penis scene'' and "the pros and cons scene'' in the final production.
The advertiser, Entertainment One Hopscotch, admitted the first two scenes were cut but said the third featured during the movie's credits.
The deleted scenes lasted a total of 14 seconds but Entertainment One Hopscotch said it would refund the ticket price to L. Wickham.
"We apologise ... for any inconvenience caused as a result of the trailer not consisting solely of footage from the finished film and we would be happy to refund L. Wickham's cinema ticket,'' the company said.
The ASA ruled the complaint had been settled.
It is the second time this year that an editing oversight has won a customer a refund on their ticket price.
Last month Paramount Pictures offered to refund the cost of a ticket for a New Zealander who complained of a "split-second'' cliff explosion shown in the trailer of a Tom Cruise thriller that wasn't in the movie.
The disgruntled viewer complained to the ASA that the "explosion where the whole cliff comes down'' in the trailer for the movie Jack Reacher was "the defining part of the ad that made me really want to go see the movie ... aside from having Tom Cruise in it''.
Paramount Pictures admitted the error and refunded the ticket price.