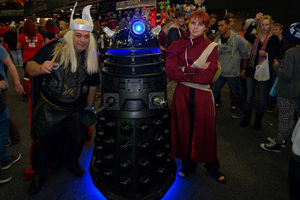 Warren Butler (Thor) and Willie Fosrie (Gaara) would be an unlikely match for a Dalek from Doctor Who anywhere but an Armageddon Expo.
The trio got along famously when they met in Hamilton yesterday at the major event that continues today before rolling to Wellington from June 1 and to Auckland in August.
Some of the drawcards this weekend were Yeardley Smith - the voice of animated character Lisa Simpson - Sylvester McCoy from The Hobbit and Doctor Who, and Joe Flanigan from Stargate Atlantis.