The Vivid Festival is lighting Sydney up with a series of arts, cultural, lighting and musical events. Chris Schulz takes it all in.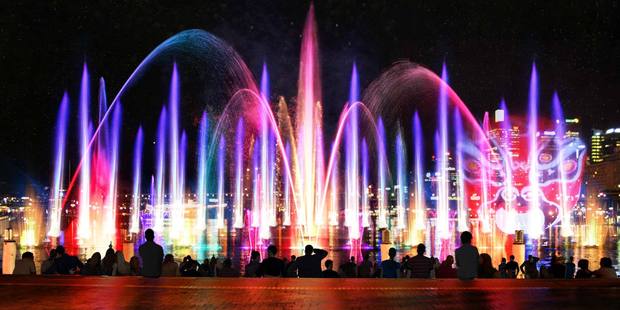 Have you ever wanted to make a building dance and sway in time to music? What about watch a giant museum weep tears of goo?
Or have you dreamt about running through a field of pink and blue Star Wars light sabers impaled into the ground?
Welcome to Vivid Sydney, where you can do all of that, and much, much more.
The festival, now in its fifth year, is a medley of cultural, artistic, lighting and musical events, and this year's show kicked off last night with a dazzling water projection display in Darling Harbour courtesy of France's Aquatique Show Internatonal.
This year, the three-week festival has attracted big name musicians like Kraftwerk, Justin Vernon, and Bobby Womack to its bill, who will all perform at the Sydney Opera House.
Kraftwerk are a major drawcard. With the French electro pioneers performing all eight of their albums over four nights, accompanied by 3D visuals, tickets sold out instantly.
If you didn't get tickets, there's plenty more to do. If you take a casual walk around Sydney's waterfront, you'll encounter a number of stops on the Vivid Light Walk, which encompasses everything from Daft Punk-esque neon rollerbladers skating in formation, to lighting displays like Hundreds and Thousands, a giant canopy of 11,000 bulbs that changes as visitors tweet their approval.
There's also a New Zealand display by Ewen Wright, who, along with Rana Abboud, has designed Digitalis, a circular garden full of giant flowers made out of recycled cups. The flowers get visibly angry the closer participants get to them. What it says about the Kiwi psyche is up for debate, but you can't miss the obvious environmental message.
Perhaps the festival's most popular display is Move Your Building from France's Danny Rose, in which participants can dance on a platform, and watch the building in front of them move in time with them. Hypnotic and hilarious, it has to be seen to be believed. And bring your kids - after last night's performance, they're better at it than most adults.
Sydney's Vivid lights won't all be turned on until 6pm tonight, when the Sydney Opera House and Harbour Bridge are lit up like Christmas trees at the official opening.
Bring your sunglasses - you might need them.
Three other things worth trying out if you're in Sydney:
QT Sydney: You know those futuristic movies that have crazy visions about how restaurants will look 200 years from now? This is that place: A nearly new restaurant, bar and hotel that pays particular attention to detail. Like the elevator, which plays themed music depending on how many people are in the lift. The super modern restaurant, Gowings Bar & Grill, specialises in low lighting, a buzzing atmosphere, and amazing food. I ate half a chicken. I also felt out of place, but then I'm from Wanganui.
Website: www.qtsydney.com.au
Din Tai Fung: Soup-filled dumplings. It sounds disgusting right? And how do you even get soup inside dumplings? I can't tell you that, but I can tell you that everyone in town nods their head in approval if you tell them you've been to Din Tai Fung. Their artistic take on Chinese food staples can be found in the World Square Shopping Centre, but be warned, there's often not a spare table to be found.
Website: www.dintaifung.com.au
Rooftop swim in the rain
Okay, so for this one you'll need to stay at the Four Seasons Hotel, but if you go for a lonely midday swim in the rain in the rooftop heated pool, if feels like you're the only person alive. I got out when the thunderstorms started rolling in. If I got struck by a thunderbolt, I might have ended up on display in one of the Vivid events.
Website: www.fourseasons.com/sydney/
* Chris Schulz travelled to Sydney courtesy of Destination NSW.

Getting There
Fly there with Air New Zealand Book now
Find out more at Australia.com