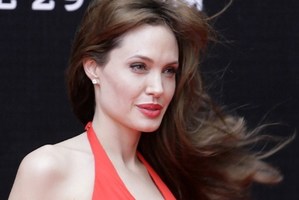 Angelina Jolie had extra reason to undergo a double mastectomy to reduce her risk of developing breast cancer - her aunt is currently battling the disease.
The Salt star underwent the preventative surgery in February after she tested positive for the "faulty" BRCA1 gene, which increases a woman's likelihood of contracting breast and ovarian cancer, the latter of which claimed the life of her mother Marcheline Bertrand in 2007.
Jolie recently admitted she completed the procedure out of fear of following in her mum's footsteps, and now Bertrand's younger sister, Debra Martin, reveals she too pushed the actress to take action after she was diagnosed with breast cancer for a second time.
The 61 year old underwent a lumpectomy following her stage four breast cancer diagnosis in 2004, but that didn't stop the disease from returning stronger than ever in 2012.
She is currently seeking out a clinical trial to help improve her chances of survival, and now Martin is applauding her niece for being so proactive about her health.
"I believe this was the right thing to do. I think it has reduced her chances of getting breast cancer dramatically. If I had informed myself better before I got breast cancer, I would have made the same decision," she told the National Enquirer.
And Bertrand's former partner, documentary filmmaker Bill Day, insists he's glad the Oscar winner has such an amazing role model in Martin.
"Debra is the unsung heroine of this story because she was the first woman in the Bertrand family to attempt preventative surgery. She has been a shining example to Angelina," he said.
- WENN