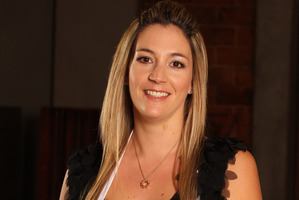 If you want to win MasterChef New Zealand you have to be prepared to leave your family, hit the books and cook up a storm. Kelly Kaihea didn't have that kind of fire in her belly.
The mother-of-two, who already co-owns two casual Auckland eateries with her husband, entered season four of the cooking contest as a joke.
"My husband has a few chefs that are his friends that work in high end restaurants in Auckland. They used to give me s**t ... if I told them if she didn't like something on their dish.
"They said to me, 'why don't you cook for a change?' It was a joke for me to enter. It sort of snowballed from there."
Kelly made the final three, and had the last laugh.
What spelled the end of MasterChef for the presentation pro was a high stress, finely-tuned, six-course degustation menu at the best restaurant in Auckland, The French Cafe.
After sampling the fine fare with judges Josh Emett and Simon Gault, the final three randomly selected a couple of dishes from chef Simon Wright's exquisite menu. They were to prepare ten plates for a table of culinary heavyweights from around the country.
Humble homecook Paula seemed stressed and put the pressure on young Kelly, telling her it was a task tailored to her pretty plating skills. Meanwhile, nothing could shake the cool of zen Raglan dad, Aaron.
After hours of prep, it was time for the trio to band together for service. With one person in charge, each dish had to be plated with precision.
Kelly got the ball rolling, and set the pace eight minutes behind schedule. In the mad rush she told Paula to add "more, more,more" creme fraiche to her delicate snapper starter. Paula questioned the call, Kelly insisted. The extra squirt dulled the salty pop of caviar and threw the dish out of balance.
While there were a couple of other minor mishaps during the service, the judges were thoroughly impressed with the outcome. They declared Aaron the challenge winner, saying his work was "sublime". They said they had to nitpick in order to cull the competition down to a top two.
It came down to "milligrams of ingredients," Emett said.
"We've never in MasterChef history had to make a decision on such minor things."
When Kelly packed her bags to move in to the reality TV show mansion she didn't expect she'd be spending three months away.
"I don't think I was mentally prepared to stay away from my family for that long," she said.
"There were some other people that have prepared a lot better, and I think they were in the competition mind a lot more."
During the competition, Paula, Kelly's roommate, was up all night reading recipe books, while Aaron had his eyes on the prize from day one.
"Aaron just studied, studied, studied. He did yoga every morning and just meditated. His mind was just set on it," Kelly revealed.

"I was completely fine with not being in the top two. They are the right two to be there."
* MasterChef New Zealand screens on TV One on Sunday nights. www.nzherald.co.nz will interview the winner next week then host a live chat with them soon after. Stay tuned.
Follow Life & Style Editor Nicky Park on Twitter and Instagram.