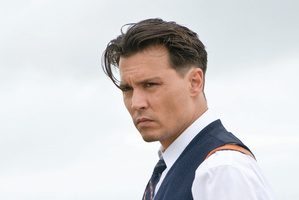 Johnny Depp has told Amber Heard she is his soul mate.
The 49-year-old actor - who has children Lily-Rose, 13 and Jack, 11, with former partner Vanessa Paradis - is said to be head-over-heels in love with his Rum Diaries co-star and has even mentioned marriage.
A source said: "Johnny is totally head over heels. He says that she is his soul mate and he plans to spend the rest of his life with her.
"Things are very serious between these two. He's told her that he wants to get married which is obviously a shock to anyone who knows Johnny."
After Johnny mentioned marriage, Amber, 27, is keen to start a family of her own with the hunky star.
The insider added to America's OK! magazine: "Amber sees how devoted he is to his kids and it melts her heart. Now she's fallen so hard for him, she's all about starting a family with him."
It was recently claimed Johnny showered Amber with gifts in a bid to win her over.
A source said recently: "Johnny and Amber began dating pretty soon after he split with Vanessa.
"At first, Amber was a little apprehensive, because she didn't want to be seen as the mistress. But Johnny won her over with his generosity and he was constantly giving her gifts.
"On a weekly basis, Johnny would send her fresh flowers wherever she was. He also bought her tons of custom-designed jewels that would cost him up tens of thousands of dollars.
"He made Amber feel giddy by showing how much he felt for her and, in the end, she slowly fell in love with him."
- BANG! Showbiz