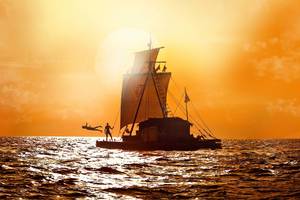 Norwegian explorer and writer Thor Heyerdahl's 1947 expedition westwards across the Pacific was a stirring Boys' Own adventure for baby-boomer kids that captured the attention of the world: his book, The Kon-Tiki Expedition, was translated into 50 languages.
Heyerdahl undertook the journey to prove his theory that people from South America could have settled Polynesia in pre-Columbian times. It's an idea that most modern anthropologists now dismiss, though some scientists are still arguing that DNA analysis of sweet potato variants support the hypothesis of westward dispersal.
This film, named for the balsa-wood raft that carried six men and a parrot 6900km in 101 days, has no interest in that argument. Rather, directors Roenning and Sandberg, who made the grim 2008 Norwegian resistance drama Max Manus, turn in a visually ravishing if rather bloodless and unsubtle fictionalisation of the story.
The directors' decision to film at sea - mainly in the Mediterranean around Malta - rather than on a set has paid off handsomely (this is a film well worth seeing on the big screen).
Extraordinarily, they also shot takes in two languages, ending up with Norwegian and English versions. The latter will screen here though, for my money, a boatload of Norwegians conversing in English looked pretty silly.
But the film's major fault is that it manages to drain the drama from one of the best adventure stories of the century. The voyage seems polite and boring - which it very probably was; these blokes set sail in white shirts and ties. But the essence of fictionalisation is to make something larger than life, and this film's Heyerdahl could have done with a bit of Captain Ahab's obsessiveness about him.
Stars: 2.5/5
Cast: Pal Sverre Hagen, Anders Baasmo Christiansen
Directors: Joachim Roenning, Espen Sandberg
Running time: 118 mins
Rating: M (violence)
Verdict: Lovely but dull
- TimeOut