Actor Riz Ahmed turned stalker for the chance to play opposite Kiefer Sutherland in a new political thriller, writes Helen Barlow.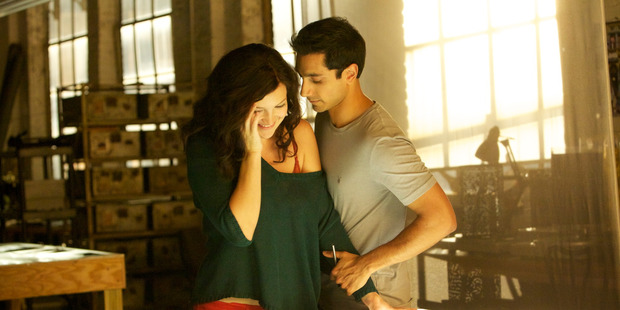 Riz Ahmed is a fast-talking 30-year-old Oxford graduate and general over-achiever. But when the actor read Pakistani writer Mohsin Hamid's enigmatic thriller, The Reluctant Fundamentalist, and then found out Indian film-maker Mira Nair was making a movie based on the book, the actor found himself turning into an obsessive stalker.
"I loved the book and stalked this project like a sad case," admits Ahmed. "I often don't have the attention span to finish books. I get to about page 120 and then I find something else, but this is a book you read in one or two days.
"Like a silly little boy, as soon as I finished it I phoned the publishers and asked if anyone had the film rights and they were like, 'Go away!' When I heard Mira was doing it I was like, 'Oh my God, she's one of my favourite directors'. It's very cheesy to say that but it literally was my dream."
And Ahmed has the solid acting chops to pull it off. The British actor of Pakistani descent got his start playing one of the Tipton Three in director Michael Winterbottom's docudrama, The Road to Guantanamo, in 2006.
Then, as Jay Singh in Trishna, Winterbottom's reimagining of Tess of the D'Urbervilles, from 2011, he showed the incredible range he could bring to a role. But he is perhaps best known for his role as Omar in terrorism spoof Four Lions from 2010.
In The Reluctant Fundamentalist, Ahmed plays Princeton-educated Changez, a clever financial analyst taken on by Wall Street honcho Jim Cross (played by Kiefer Sutherland), and elevated to the top of the ranks. He has a beautiful girlfriend, Erica, played by Kate Hudson, and seemingly has it all.
Then, amid the post-9/11 backlash against Muslims and, more generally, anyone with brown skin, he makes the decision to return to Pakistan and his hometown of Lahore. Just how much he makes an about-face from the American dream is where the intrigue lies.
Interestingly, it all comes down to a cellphone call, just like in Sutherland's hit terrorist series 24. Ahmed is a fan.
"Kiefer is a legend, you have to pinch yourself when you share a screen with icons like that," he says. "Lost Boys and Young Guns were on repeat for a year in my house growing up. Stand By Me, he is the man! I saw the first series of 24 and I loved that. I never forgave my brother for ruining the end of it for me."
Still, Ahmed, who shares a London flat with his brother, now a psychiatrist, didn't geek out and ask Sutherland about Lost Boys. "I felt like if I open those floodgates it might all get out of control. He is just a super pro. He knows exactly what he is doing and he can think about blocking and angles as part of his creative process. When you get to that level of experience it's nuts watching him."
Sutherland, whose natural authority in the film recalls his indelible Jack Bauer character, says he had an immediate desire to make the film when reading the screenplay and book.
"Having done 24, which was born out of fantasy before 9/11, I was keenly aware that as Americans we were very focused, and rightfully so, on the casualties and not the planes that went into the buildings. But certainly over 10 years there was collateral damage and I saw a lot of the things that were happening in the US, ranging from profiling to murder or really egregious crimes by people either of the Muslim faith or coming from the East. This was one of the first things I'd read that addressed that," he says.
"Americans describe America as the land of opportunity," continues Sutherland, "and Jim Cross is an opportunist. When it suited him to have Changez as his ally then he had him as an ally, and when it didn't suit him he cut him loose as if they had never met."
But for director Nair, who was born in India but lived in America, Cross is not a villain. "He is in a way the best of America ... someone who post 9/11 hires a guy with the wrong last name and the wrong skin colour because he sees a mind he might profit from. That willingness to invest in talent doesn't happen in many places."
Nair has strong recollections of the 9/11 fallout. "The US suddenly became a place where people who look like us were the other and that was sinful. It was part of the inspiration to make this film as the events of the past decade have strongly affected us."
Who: Actors Riz Ahmed and Kiefer Sutherland
What: The Reluctant Fundamentalist
Opens: May 23
- TimeOut