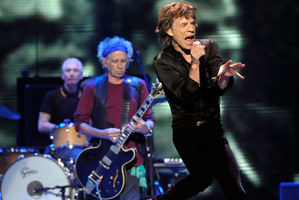 The Rolling Stones would not have reunited for a 50th anniversary tour if Keith Richards hadn't apologised for poking fun at bandmate Mick Jagger in his memoirs.
The guitar great took aim at the size of Jagger's manhood, his relationships and his musical talents, in his bestselling novel Life.
In his most famous barb, he said Jagger's ex-lover Marianne Faithfull 'had no fun with his tiny todger'.
That drove a wedge between Richards and the Stones frontman, and Jagger admits an apology was an unspoken "prerequisite" before the group could start talking about working together again.
"I think it was a good thing he got together with me and said that [apologised]. I don't really want to talk about it apart from that, but I think it's good that he said it, and yes, it was a prerequisite, really," Jagger told Rolling Stone magazine.
"You have to put those things to one side; you can't leave them unspoken ... Sometimes it's easy to push them out of the way, but I think it's good that we had that conversation."
But it's clear that Richards' memoirs still irk Jagger - when the rocker was pressed to comment on the accuracy of his bandmate's book, he said, "I don't really want to talk about Keith's book."
Richards confesses he apologised to Jagger, but he still wishes his bandmate had read the book properly."I did also say to Mick, 'I know exactly what you did. You got the book, you went straight to the index - Jagger, M - and that's what you read. You didn't take it in context.'
"So, yeah, we had a bit of a doo-dah about that, but I was expecting it. We resolved it, in our own way. I said that I regret if I caused you any, you know, inconvenience or pain, or something ... I'd say anything to get the band together, you know? I'd lie to my mother."
Jagger and Richards officially launched the 50 & Counting tour with the Stones in Los Angeles last week.
- AFP