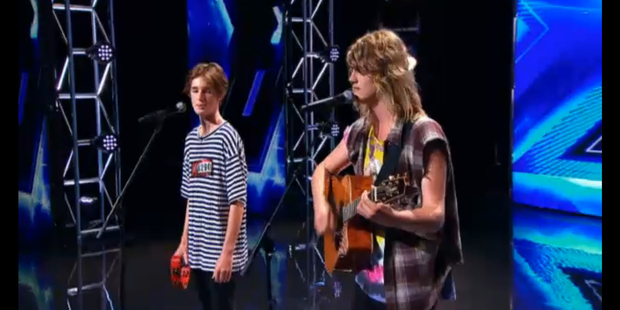 The Auckland teenagers kicked off stage by angry judges have vowed to continue "steamrolling on" despite their dramatic exit from X Factor New Zealand in last night's show.
Leith Towers, 16, and Nick Armstrong, 18, of The Steamrollers, were ordered off the stage when they admitted to "taking the mickey" out of the high-stakes singing competition during the boot camp episode that screened on TV3 last night.
The pair were given a dressing down by judge Melanie Blatt midway through their unusual rendition of Michael Jackson's Man in the Mirror, before Stan Walker told them to "walk off now" and labelled their indifferent attitude as "shocking".
"It's all very well having a laugh and being funny and stuff, but this is still a singing competition and you can dress up like that if you want but it would be nice if you could still sing," said Blatt.
"That to me felt like you were taking the mickey out of the whole process."
Nick last night told the Herald the pair "got taken the wrong way", but were pleased to be out of the competition.
"Our attitude is to have fun and we joke around a lot so I guess we got taken the wrong way," he said.
"So when they said, 'Do you want to leave?' we kind of figured if these people aren't going to like us much then it's just not really going to work out.
"I think the thing is we are not actually very good - we can't sing and the other thing is we are ugly, we are actually really ugly."
Blatt said the pair's performance stood out from others making a real effort to advance in the competition.
"The contestants that have made it to boot camp have worked their butts off to be there. At this stage of the competition you have to bring your A game and they just didn't. Simple as that."
After their abrupt eviction, the pair said leaving the competition meant their parents would expect them to gain employment. Leith now works at a Denny's Restaurant while Nick is "still securing" a position in the hospitality industry.
"We've still been playing and we've got some gigs out of this ... we had never played a gig before that so it's pretty good," said Nick.
"We'd just like to say that The Steamrollers will continue to steamroll on and thanks X-Factor for what you have done, but I guess it didn't work out, it got a bit awkward."
More than 6000 New Zealanders auditioned for a spot on the show, and last night just 60 remained. Tonight that will be reduced to 24 when the judges take contestants on a judges' retreat.