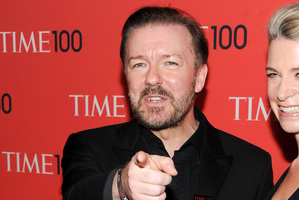 The funnyman actor bonded with the Mirrors hitmaker at the prestigious Time 100 Gala in New York recently after teasing him for being "too perfect and handsome", which led to them posting pictures of themselves lying on the floor at the event.
The 51-year-old Derek star told Ryan Seacrest on his KIIS-FM radio show on Friday: "I was talking to Justin Timberlake afterwards and I showed him my bath pics. We were just mucking around - he's really cool and funny, I want to work with him -- [So] I showed him some of my pictures and I was teasing him for being way too perfect and handsome and I was showing him ... some of the horrendous things I can do with my face, I tweet bath pics ... and I said, 'There's no bath, but let's do a floor pic.' So we laid down on the ground and yeah."
Ricky posted the humorous photograph on Twitter with the caption: "@jtimberlake & I, lying on the floor at The Time 100 Most Influential People Gala. I blame the free booze."
Meanwhile, Ricky is excited about his new partnership with YouTube and the launch of the Ricky Gervais Channel, which will feature special content and see him reprise his role as David Brent in The Office.
He said: "People kept asking me, 'What's Brent doing now?' And I think it's the right time. It's been 10 years since I finished 'The Office' and with the American Office coming to a close ... I thought I'll do a little update, so I did a little 10-minute thing about what David Brent's doing now, and he's rapping, door to door sort of salesmen, but he hasn't forgot his dream of being a pop star."
- BANG! Showbiz