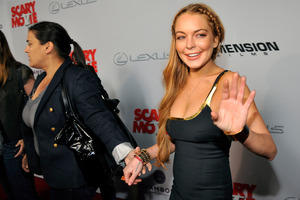 The 26-year-old actress had planned to check into the Morningside Recovery facility in Newport Beach, California yesterday, but fled the clinic without setting foot in the building, risking arrest as she had been ordered to begin a 90-day stint of inpatient treatment by the end of the day.
She brokered a deal with the assistance of her former lawyer Shawn Holley - who she fired in January - to enter a different facility, and checked into the world-famous Californian clinic shortly before the midnight deadline, avoiding having a warrant issued for her arrest.
A source told RadarOnline.com: "Lindsay cut a last minute deal with the D.A. to go to Betty Ford. Shawn Holley helped to broker the agreement with [Los Angeles] City Attorney [Terry White] late Thursday night."
According to TMZ, though the judge hasn't signed off on the new clinic - where Lindsay was previously treated in 2010 - the paperwork is expected to just be a formality.
The 'Liz & Dick' star is said to be unhappy with her current attorney, New York-based Mark Heller - who the court had previously warned her did not have enough experience of Californian law - because of his choice of rehab clinic after learning it had had its licence revoked and begged her former lawyer to return to her case, even though she still owes her around $300,000 in legal fees.
The source added: "Lindsay cannot stand her current lawyer and thinks he doesn't know what he is doing. So late Thursday, from hiding, she began calling emailing Shawn incessantly. Shawn has always had a soft spot for Lindsay, even after everything she has pulled. She hates to see her suffering."
Morningside were said to be infuriated with Lindsay and her demands even before she arrived at the clinic.
A source explained: "Lindsay had her 'publicist' call all day on Thursday making outrageous demands ... like that she needed her cell phone with her at all times.
"It's like she thinks Morningside is a hotel. The staff at the facility doesn't need nor want this drama.
"Lindsay's actions on Thursday were very disruptive."
- BANG! Showbiz