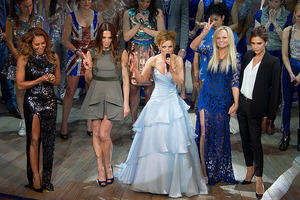 The Spice Girls musical will close next month.
Viva Forever! - which is based on the songs of the pop quintet and was written by Jennifer Saunders - opened last November and had recently had its run extended to February 2014, but the cast and crew were reportedly told yesterday that the production on London's West End will finish on June 26.
The show was slammed by critics when it was reopened, prompting a recent revamp and speculation huge parts of the musical were to be rewritten in a bid to attract more audiences.
According to the Daily Mail newspaper, Viva Forever!, will close at a loss of at least NZ$9.1 million.
So far, neither Jennifer or any of the Spice Girls - Victoria Beckham, Mel B, Mel C, Emma Bunton and Geri Halliwell - have commented on the news.
However, cast members Anthony Topham and Ben Cura - who play Lance and Angel - have taken to Twitter to talk about the closure.
Anthony tweeted: "Cut price Gerrard Butler type who can do a Geordie accent for hire!
"Viva Forever given its notice and will close 29th June.
#iblamesting (sic)"
And Ben wrote: "that's the way it goes - can't win them all!"
- Bang! Showbiz