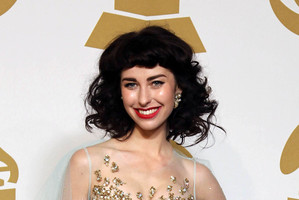 Kiwi pop princess Kimbra, and rising local star Louis McDonald have each won a category in the annual International Songwriting Competition. Kimbra took out first place in the Pop category for her song Good Intent, while McDonald, who is the singer in Auckland band Five Mile Town, won the Teen category with his song You Would Know. McDonald's prize includes a scholarship to Berklee College Of Music's Summer Performance Program, and both of them win a variety of gear, music industry services.
A total of 68 winners were selected from over 20,000 entries worldwide, and the grand prize - which includes US$25,000 and US$40,000 worth of equipment and services - was won by American Indie folk songwriter Joshua Hanson. Kiwi singers Gin Wigmore, Kimbra, and Moana Maniapoto have each won the prize in past years.
The judges for this year included Tom Waits, Nas, Keane, Jeff Beck, Robert Smith, Janelle Monae, Tegan and Sara, Basement Jaxx, and reggae star Toots Hibbert along with many other artists and industry executives.