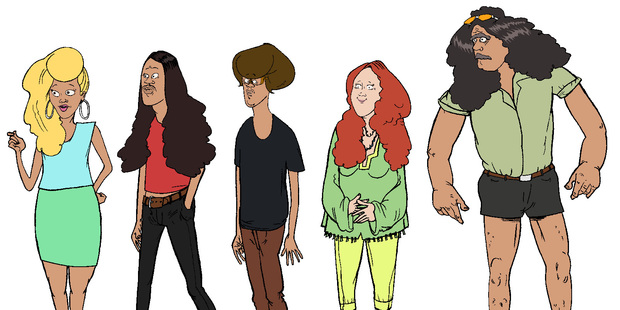 Hook Ups is a cartoon about musical twins Kowhai and Monty Hook. The contrasting pair hilariously live out the metaphors, tensions and clichés of the music industry while living in Aroha Bridge.
With big dreams and bad judgment, the comical siblings never seem to get a break. New episodes online every Thursday at 4pm on NZ Herald Online.
The Hook Ups app gets users to collaborate online to make music that could appear in the next episode of Hook Ups. Lay down an instrument and send your track to a collaborator to add another. Four instruments can be added to each track before it is submitted to the Hook Ups team. You can share you track on SoundCloud and Facebook. Download from the App store.
The series is written by Jessica Hansell aka musician Coco Solid. Hansell also voices the character Kowhai and is joined by actors Rizvan Tu'itahi (Monty), Scotty Cotter (#1 fan and cousin Ira) Madeleine Sami (the twin's hippy Mum) and Frankie Stevens (their excessively macho ex-vet Dad).
From the producer of TV3 comedy Super City, Carthew Neal has drawn on the talents of illustrator Don Brooker, director Simon Ward and app developers Daniel Too and Tim Checkley to bring this hilarious series to life.
Learn more on Facebook, Twitter and Tumblr.
(C) Fumes Production Limited 2013
NZOnAir
NZ Herald Online