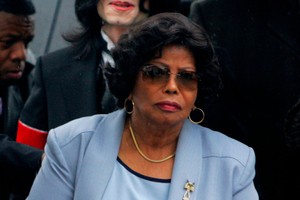 Michael Jackson's mother on Monday accused the promoter of his doomed final tour of sacrificing the drug-addled star in a "ruthless" pursuit of profit in the months before his 2009 death.
At the opening of the trial in Los Angeles between Katherine Jackson and AEG Live, her lawyer Brian Panish said the promoter negligently hired doctor Conrad Murray, who was convicted in 2011 of causing Jackson's death.
Jackson's 82-year-old mother sat impassive in the front row, flanked by his siblings Randy and Rebbie, as Panish detailed the self-styled King of Pop's long-term addiction to pain medicines, alcohol and other drugs
Panish accused Anschutz Entertainment Group (AEG) of neglecting its duty of care to Jackson, as it strove to become the world's biggest concert promoter through the doomed 'This is it' series of concerts in London.
"AEG had a problem and they wanted to fix it. And they didn't care who got lost in the wash," he said.
"They were ruthless. They wanted to be number one at all costs."
"Michael Jackson, Dr. Conrad Murray and AEG Live each played a part in the ultimate result, the death of Michael Jackson," he said, but added: "Without AEG none of this would ever have occurred."
Katherine Jackson, wearing a blue trouser suit, was greeted by fans who shouted "We love you Mrs. Jackson" as she arrived for the start of the trial, expected to last at least three months.
She is reportedly seeking billions of dollars in damages - no figure is mentioned in court documents - on behalf of Jackson's children Prince, 16, Paris, 14 and 11-year-old "Blanket."
The elder two could appear as witnesses, alongside a string of celebrities who may testify, including Quincy Jones, Diana Ross, and Spike Lee. Both of Jackson's ex-wives, Lisa Marie Presley and Debbie Rowe, could also appear.
Murray was convicted of involuntary manslaughter in 2011. He has launched an appeal, and declined to testify at the civil wrongful death trial against AEG, to avoid incriminating himself.
The singer died at his Los Angeles mansion on June 25, 2009 at age 50 from an overdose of the powerful sedative propofol, administered by Murray to help the Thriller legend deal with chronic insomnia.
At the time of his death, he was rehearsing for a series of 50 shows in London, organized with AEG, in an attempt to revive his career and ease his financial woes.
The promoter claims Jackson had a history of drug abuse long before the singer met Murray, who was hired for a salary of $150,000 a month to care for him before and during the shows at London's O2 Arena.
But Jackson's mother claims AEG Live pushed her son too hard to prepare despite clear signs that he was struggling to cope.
"AEG, despite its knowledge of Michael Jackson's physical condition, breached those duties by putting its desire for massive profits from the tour over the health and safety of Michael Jackson," says the lawsuit.
Much could turn on who exactly was responsible for hiring and paying Murray, whether Jackson himself or AEG.
Panish cited a string of emails at Monday's opening session, including one about Murray from AEG executive Paul Gongaware to tour director Kenny Ortega 11 days before Jackson's death, which clearly implicated AEG.
"We want to remind him that it is AEG, not MJ who is paying his salary," he wrote on June 14, 2009, discussing a planned "intervention" after Jackson failed to turn up for rehearsals, and was unfit to perform when he did so.
Judge Yvette Palazuelos has allowed testimony about child molestation charges against Jackson to be heard, but she has notably refused to allow testimony about the parentage of Jackson's three children.
- AFP