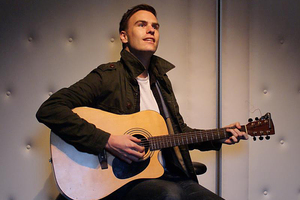 What sort of voice should we read your answers in?
A strong, powerful, masculine voice. But warm and endearing at the same time, with the hint of cheekiness. So, I guess, Emma Stone's voice.
Are you worried about how you'll come across in print?
Why? Who are you showing this to? Is this a legal thing? Oh God am I perjuring myself right now? NOT GUILTY! Ah! I can't take the lies anymore. I DID IT! GUILTY! I'M GUILTY! Tell my Mum I love her and that I didn't cry.
Describe your show in 10 words or less:
Deceptively personal jokes about love and life. Plus songs. Lion.
Is there somewhere we can see your work online? If not, why?
Brendongreen.com. I still feel so thoroughly pretentious about registering the .com and not .co.nz, but hey, you have to aim big, right? I'm a product of the world.
What does your mum think of what you do?
Right now my Mum just wants Grand-kids. So if my comedy can get someone pregnant, she's all for it. (note: it can't)
Eight minutes into your show, all going well, what should be happening?
Perfect Silence.
Where are you usually when ideas or jokes come to you?
It's always while driving, which is the one situation that you can't write them down on the go. (Because it's dangerous, you guys (#DRIVESOCIAL))
What's more important to have as a comedian, youth or wisdom? Discuss.
I look like a guy who's in his 20's, but I'm actually 47 years old. So with the wisdom of experience, I can definitely say Youth. Nobody cares about what you've "accomplished" and "given back to society", comedy is all about how ripped your abs are. Just look at Guy Williams.
Who's your comedy hero, and why?
For the writing side of comedy, I love Kurt Vonnegut. For the performing side of comedy, I love Amy Poehler. For the musical side of comedy, I love Tom Basden. And I guess you could say all of these elements are collected into the Perfect Comedy Package known as Bradley Cooper.
Where and when:
The Basement Studio, May 1-4.
- nzherald.co.nz