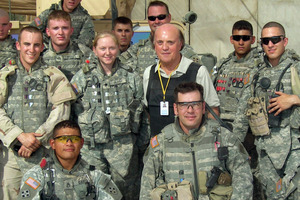 An award-winning documentary maker is raising money to make a film about New Zealand's greatest war correspondent.
Aucklander Bruce Nixon has been working since 2011 on a 90-minute documentary on the life of journalist Peter Arnett, focusing on Arnett's fearless journalistic approach.
Arnett, 77, is now a professor of journalism at Shantou University in China.
Nixon said a lot of people, particularly in New Zealand, didn't know about Arnett.
"His is such an incredible story ... and here's the opportunity to tell the story about the storymaker."
The film received an initial grant from the Invercargill City Council, and was also accepted into a 60-day fundraising scheme for the pilot stage of Boosted, a sponsorship website of the New Zealand Arts Foundation.
Nixon wants to raise $50,000 for the "backbone" of the documentary.
He said the film would not ignore criticism of Arnett.
"It's going to be a mix, and quite controversial, so we're going to have people who were critical of Arnett talking about him. But we'll also get him in some of the most inhospitable parts of the world."
During an extensive career, Arnett's coverage of crises from the Vietnam War to the fall of Saddam Hussein's Iraq, drew respect and infamy alike from governments, and recognition from global media.
The Pulitzer Prize-winner conducted interviews with Osama Bin Laden, Fidel Castro and Hussein, and was recently appointed an Officer of the NZ Order of Merit.
Arts Foundation executive producer Simon Bowden said making a film with money from donations was an ambitious undertaking.
"But if he can find a way of connecting with those global communities, and inspire those people to get behind the project, then he does have a chance of making it."
www.boosted.org.nz/projects/words-of-war.