Shawn Wayans of the Wayans Brothers talks to Scott Kara about how sibling rivalry helped the clan become a comedy phenomenon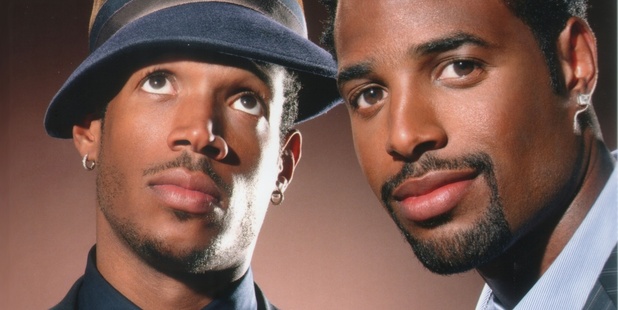 You'd think, if Eddie Murphy was a frequent visitor at your house that you'd learn some pretty cool swear words. Not so, says American funnyman Shawn Wayans because, when the renowned potty-mouthed comedian hung out at his house in the 80s, Murphy's advice was purely practical.
"When I told him I was going to do stand-up he said, 'That's good. Make sure you work hard'," recalls Wayans who's on the phone from Los Angeles.
You see, Murphy was good friends with Wayans' older brother, fellow comedian and creator of the Scary Movie films, Keenen. And he admits having people like Murphy around inspired him to go into comedy.
"He'd come by our house and when you've got people like that in your world, what else are you going to do?" he says before doing a perfect impression of Murphy's cheesy, over the top laugh made famous by his role as Axel Foley in Beverly Hills Cop.
Then again, Wayans was always going to be a comedian since his family are like the Jacksons of comedy - minus the hardcore discipline Michael and his siblings were subjected to, of course.
"To their credit, at least they [the Jacksons] had a structure. Their father knew something. But our parents had no clue [of their children's talents]. It's a bit different with comedy though, because you can't beat someone into being funny. You can't whip someone into funny shape," he says. "But the Jacksons inspired us, and if it wasn't for them I don't know if we would have dreamed that big. You know, a big strong black family doing some incredible stuff. So I guess I was always going to get into it. And I didn't even know what else I could do. I didn't even prepare myself to do anything else.
"Since I was a little dude, way back in the day, when I used to watch Keenen and [another brother] Damon coming up in the game, I knew what I wanted to do from seeing them."
Wayans and his brother, Marlon, who are perhaps best known in New Zealand for their starring roles in puerile parody film Scary Movie and its many sequels ("It's just four jokes a page," he says with a laugh of the franchise's popularity), will perform their stand-up show at the comedy festival this year.
He believes his background in stand-up laid the foundation for everything that he went on to do.
"From writing and performing in In Living Color [a sketch comedy show from the 90s], and Scary Movie, stand-up helps sharpen your point of view. It gives you an insight into the world that is unique to anything else that might be on television, so you're not doing what someone else does. It gives you a unique voice, and the more you do it the stronger and bigger and more unique your voice becomes."
But he still remembers how intimidating performing on stage was; initially at venues in and around his hometown of New York.
"It's like walking into a really deep swimming pool and you have no idea how to swim. But once you learn how to swim it becomes less intimidating. I had my fair share of sets that weren't good, but I knew that I was going to get good if I stuck at it. Luckily, I had Damon and Keenen who came before me and they would always say, 'Keep getting up on stage and keep writing'."
Shawn says he and Marlon carved out their own path in their big showbiz family by simply "working hard on being funny".
"We weren't trying to outdo each other, but just focus on us being funny and we evolved into who we are. And I think we had comedic talent throughout our entire family, but that doesn't mean you are funny enough to get up on stage. And it doesn't mean you are funny enough to reach the masses, and that's what takes skill. So you can have raw talent, but if you don't put in the work to understand it, then you'll have a rough ride."
Who: The Wayans Brothers
What: The brothers best known as the stars of Scary Movie go back to their stand-up roots
Where and when: Bruce Mason Centre, May 3, 7.30pm
- TimeOut