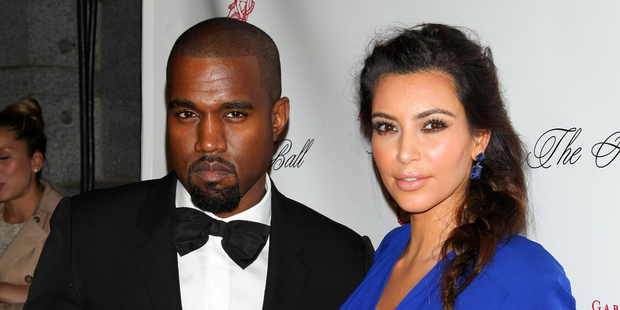 The ink may barely be dry on her divorce settlement, but Kim Kardashian hasn't given up on the idea of getting hitched again.
The 32-year-old pregnant reality star - who finally settled the terms of her divorce from her estranged husband of 72 days, NBA player Kris Humphries, on Friday - says the experience hasn't put her off marriage.
"I do think I would get married again," Kim revealed on Ryan Seacrest with The Kardashians: An E! News Presentation, which aired in the US on Sunday. "That's what I've always wanted. And just because you think you find it and you realise that's not it, I think I was brave enough to realise that quickly and not waste time."
"I found what I really wanted," she added of her relationship with baby-daddy-to-be Kanye West. "So I think I definitely do want that."
"You can tell by the smile on her face," chimed her sister, Khloe.
Kim, who is expecting her first child with West in July, also said she had changed her perspective on revealing too much about her romance on TV.
"I changed a little bit in showing relationships," she told Seacrest. "When you put it all out there for the world to see and people turn because they don't get your decisions, you're like, 'Should I really put my next relationship on? Will they not get this?'"
She added: "I felt like I gave so much of myself in my marriage, publicly. When you make mistakes, it's embarrassing. I'm going to be a mum, so I feel myself getting really protective."
Kim also opened up about her rough pregnancy in the interview.
"I was waiting for this amazing experience where I can just do whatever I want, eat whatever I want, feel great. And it just hasn't been great," Kim said.
"I haven't had morning sickness, so I've heard that I'm really lucky, and I feel lucky [but] it's just really painful everywhere. It's a really painful thing. I'm in pain, physically."
Khloe elaborated on her sister's pregnancy woes: "Her back hurts, her breasts hurt, her stomach hurts, her feet hurts, her head hurts, her eyes hurt, her nails hurt. She cries all the time, too."
Kim added: "I get really paranoid [and] I start Googling things, the things that come up are really scary. It just freaks me out all the time."
Khloe, who is married to Lamar Odom and has chronicled her struggle with infertility on the Kardashian reality shows, also said Kim has jokingly been urging her not to get pregnant.
She said that Kim has told her to "hold on to these moments, Khloe! Adopt, surrogacy, anything! I hate this!"
But despite the wedding chatter, don't expect Kimye to rush to the altar.
"Don't you think I should slow down? I think I should slow down," she told Extra. "I think I'm just really enjoying my time with Kanye right now and we want to have the baby.
"When you know how it's going to be in the end, there is no need to really rush it right now."
Kim told the Today show back in January that she "definitely" wants to make her union with West official in the future.
"[I'm] so content with how things are right now. And how life is and we're so happy. We definitely want that in the future, but I'm not in a rush."
Kim's first marriage, to record producer Damon Thomas, ended in 2004. She finalised her split from Humphries on Friday, after a long and contentious divorce battle.
Third time's a charm?
Check out video of Kim discussing her divorce settlement and wedding rumours below:
NOTABLE NUGGETS
And finally...
* Scrap that: Michael Bay is not sorry for Armageddon.
* First look: Halle Berry's baby bump concealed in X-Men Storm costume.
* Backstreet Boys receive a star on Hollywood Walk of Fame.
* Reese Witherspoon cans talk show appearances in wake of arrest.
* Katy Perry calls divorce from Russell Brand a "very tiny elephant" in the room.
* Jury selected for Michael Jackson wrongful death trial.
* James Franco wins lawsuit after NYU professor can't find him.
* Gwyneth Paltrow slaps Robert Downey Jr. after he calls her a snob.
* Amy Winehouse's dad not impressed with Beyonce's Back To Black cover? Not so fast...
* MTV blocks Buckwild producer from moving the series to another network.
* Tara Reid's rep denies the American Pie star threw a hissy fit after being denied discount at LA store.
* Watch: Beyonce invites fans for a sneak peek at her Mrs Carter Show World Tour
Follow Myrddin Gwynedd on Twitter.
- Rumour Has It