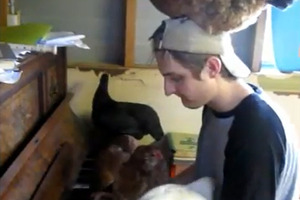 The Chicken Man is maintaining his performance on The X Factor was genuine, saying he just wanted to make people laugh.
Mitchell Wahl, self-dubbed "Chicky Mitchy" gave an unusual rendition of an Elvis song which saw #chickenman trend on Twitter.
In the introduction to his audition, Mr Wahl, of Kerikeri but originally from the United States, said he had about 50 chickens but that his favourite three were Fifty Fifty, Phoebe and Clucky, who sit on his shoulders when he plays the piano.
He started posting videos of the hens doing this on his blog in September.
Mr Wahl told The Edge radio station's morning show that he was genuine and not a paid actor.
At his audition in Kerikeri, Mr Wahl sung with Phoebe the hen on his shoulder and Mr Wahl said the producers couldn't stop laughing.
"I felt really good about that audition. My uncle was outside of that room and people were saying, 'I don't believe it' and my uncle was saying, 'Well the neighbours can't believe it either'."
Mr Wahl told the radio station that if no one had laughed at his audition on Sunday night, it would have been a failure.
"My goal was to really make people laugh ... I still think I can sing, but I think I can sing to entertain and make people laugh."
Judge Melanie Blatt said as far as she knew, he was legitimate.
"And his chickens too, but such is life."