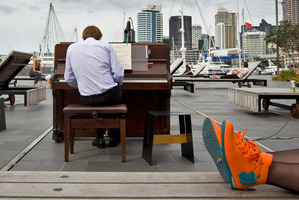 Talented young pianists performed for the crowds along the Auckland waterfront at the weekend, in a taster for an international festival.
Lunchtime crowds to Wynyard Quarter were entertained by 11 students on Saturday and yesterday, opposite the Viaduct Events Centre, as a promotion for the New Zealand International Piano Festival starting on Friday.
From that day, acclaimed international musicians from New Zealand, Germany, Hungary and Russia will play six concerts at the Auckland Town Hall Concert Chamber until April 25.
The annual showcase will host big-name artists including Konstanze Eickhorst, Michael Houstoun, Denes Varjon and Ilya Rashkovskiy, with pre-concert talks presented by the Professor Heath Lees of the University of Auckland School of Music.