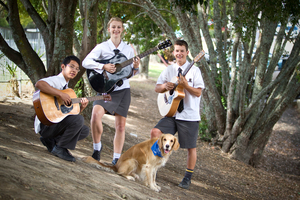 You ain't nothing but a hound dog but you've got plenty of musically talented admirers.
A diverse range of New Zealand stars known as "Kiwi icons" have recorded an album of songs to fundraise for the SPCA.
Alongside names such as John Rowles, Phil Madsen and Larry Morris are Massey High School students playing a cover of the Doobie Brothers' hit Listen to the Music.
The students are learning guitar with Jack Mooney, a member of New Zealand bands in the 1970s.
Producer Gray Bartlett said students were included because research showed children who hurt animals could grow up to also hurt people.
Student Kirsten Eskildsen said she was delighted to be asked. The proud owner of a dog, a cat, two horses, two birds and four chickens said it was a "neat opportunity because I don't think my guitar-playing would be heard by people otherwise."
Bartlett said other young people would listen to the CD because of the student musicians and the message would spread. "It's only a small thing, but it's an important thing to get ingrained in them."
The veteran musician and promoter hopes the CD will raise $50,000. A concert following a May 31 release may raise another $50,000.
All involved in the CD, titled Gray Bartlett's Kiwi Icons, gave their time free and every cent made will go to the SPCA, he said.
SPCA president Bob Kerridge said the money raised would probably go towards the organisation's education programme.