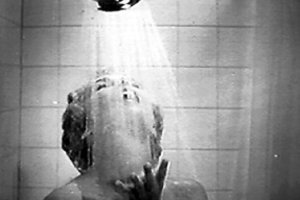 The terrifying moment Norman Bates knifes to death a motel guest in Alfred Hitchcock's masterpiece Psycho has been voted the best movie bathroom scene of all time.
The skin-crawling shower scene, featuring Anthony Perkins as knife-wielding Bates and Janet Leigh as victim Marion Crane, stunned cinemagoers worldwide when the film was released in 1960 and has become one of the most iconic moments in Hollywood history.
Now it has topped a survey to find the most memorable bathroom-set scene in movies, with 72 per cent of the vote, narrowly beating into second place a surreal scene from Danny Boyle's 1996 film Trainspotting, in which a heroin addict searches in a toilet for his drugs.
Third place in the poll by bosses of online bathroom retailer UKBathrooms.com was taken by Ben Stiller's infamous 'zipper scene' in 1998 comedy There's Something About Mary, the chilling 'woman in a bath' moment from 1980 horror classic The Shining came fourth, and the top five was rounded out by Julia Roberts' memorable moment in the tub in Pretty Woman.
The list of 10 best bathroom scenes also featured Pulp Fiction, Porky's, What Lies Beneath, Dumb & Dumber, and Along Came Polly.
Peter Gregg, director of UKBathrooms.com, says, "The Psycho shower scene really is one that sticks in the mind. Despite the film being around for many years, it still has the power to shock. I'm sure there are some people out there who've now opted for sponge baths for life!"
- WENN