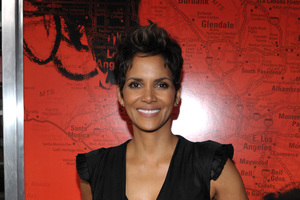 Halle Berry's pregnancy was the biggest surprise of her life.
The 46-year-old actress confirmed she is expecting her second child after rumours surfaced that she was three months pregnant.
Berry has now spoken about the pregnancy and says she feels "fantastic".
"I thought I was kind of past the point where this could be a reality for me. So it's been a big surprise and the most wonderful," she told CNN.
Despite speculation suggesting Berry is expecting a boy, the Oscar-winning actress insists she doesn't know the sex of the baby.
This will be her first child with fiance, French actor Olivier Martinez.
The couple got engaged in March 2012 after dating for two years and sparked baby rumours after Martinez appeared to be fiercely protective of Berry around paparazzi when they walked through a Los Angeles airport last week.
Berry already has five-year-old daughter, Nahla, with her ex-partner Gabriel Aubry.
The actress has been busy of late, after joining forces with designer Michael Kors and the UN World Food Program to help fight global hunger.
She showed off her compact baby bump as she launched the World Hunger Stop campaign with Kors at the Four Seasons in New York City on Saturday night.
- Cover Media