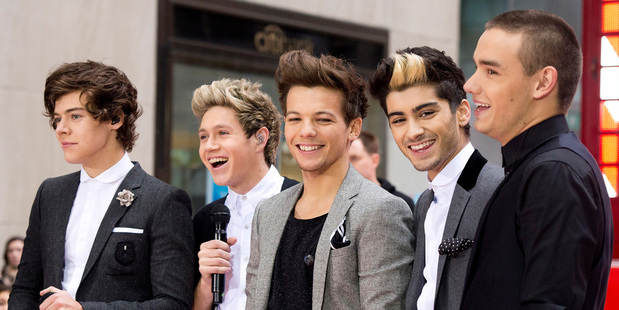 The Wanted's Jay McGuiness has hit out at Louis Tomlinson for mentioning his band during One Direction concerts.
Both boy bands have been feuding over who is best for several months and McGuiness took to Twitter to criticise 21-year-old's Tomlinson's behaviour after 1D mentioned the group during their gig at The O2 in London on the weekend.
In a posting on the social networking site, McGuiness ranted: "Dear @Louis_Tomlinson, please stop mentioning us in your gigs, we certainly no longer mention you and it's time to let dead dogs lie. Your passive-aggressive style of speaking makes me cringe, and I wish you'd either have the bollocks of some of your co-workers to speak truthfully, or the class of the majority of them to be silent.
"I'm not sure what's happened since we saw you at the X Factor, but you've done a sterling job of becoming one of the most overrated, arrogant and not to mention insincere people around. Your shocking lack of talent will only be forgiven by lots of humility and no-strings-attached friendship among your band.
"Louis, don't measure your worth in followers or money, because they're fickle, and when they go you might just feel worthless."
McGuiness' angry message came after bitter words were exchanged between Tomlinson and McGuiness' bandmate Tom Parker on Twitter.
Tom initially wrote: "@Louis_Tomlinson you even talk about us at your gigs. Are you that upset you didn't get in this band? (sic)"
Tomlinson was quick to respond, musing: "@TomTheWanted Pal, we both know I wouldn't waste my time auditioning for your band. You humour me with your bad boy persona. (sic)"
Both singers then continued to argue in front of their followers, with Tomlinson then bringing rival Max George into the equation by mentioning troubled star Lindsay Lohan, who reportedly had a fling with George.
After Parker made a sarcastic comment about recording the soundtrack to Mean Girls 3, Tomlinson tweeted: "@TomTheWanted not a bad idea actually maybe @maxthewanted could ask Lindsay? (sic)"
George commented: "@Louis_Tomlinson sorry did you want me? (sic)"
Tomlinson and Parker's girlfriends Eleanor Calder and Kelsey Hardwick defended their other halves, re-tweeting spiteful comments made by onlookers of the arguments.
All tweets have since been deleted.
- Bang! Showbiz