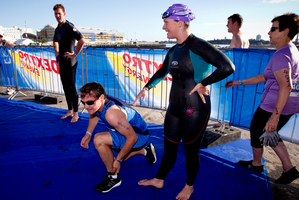 TV news presenters were spotted showing their off-screen prowess when they took on international athletes at the Barfoot & Thompson ITU World Triathlon Series yesterday.
TVNZ Breakfast presenters Rawdon Christie, Toni Street and Sam Wallace were seen sporting running shoes and wetsuits for the Teams Sprint event.
Downtown Auckland was transformed into an arena for the series that featured sprint and standard distance races, a Twilight Swim Run, a 5km brunch run, and a ParaTriathlon alongside the high stakes Elite Men and Women races.
German Anne Haug took out the women's field with a time of 2h 8m 20s and Spaniard Javier Gomez won the mens with a time of 1h 55m 51s.
Competitor Simone Ackerman was described as the "hard luck story of the day".
The Oceania U23 champion was riding in the lead pack when a plastic bag got stuck in her bike's wheel and ended her race.