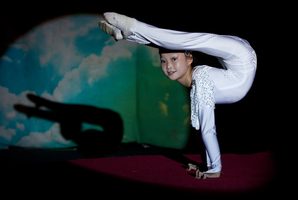 A circus show featuring an 11-year-old contortionist is among new attractions at this year's Coca-Cola Easter Show.
Feifei Deng can bend her body into seemingly impossible manoeuvres, and is the youngest performer in the international Zirka Circus.
ASB showgrounds will host attractions until Monday, including a Hollywood Horrors ride, cultural performances, a Friday and Saturday night concert featuring Dane Rumble and boyband Titanium, as well as the country's biggest indoor A&P show.
The city centre will also feature free games, rides and entertainment on Queens Wharf and Fanshawe St as part of the Easter Downtown event.
On the North Shore, Takapuna's Giant Easter Egg Hunt this afternoon is sure to keep the kids entertained.
The Waiheke Island Jazz Festival tomorrow offers a laid back line-up of artists and a fully licensed bar.
Easter treats
* Coca-Cola Easter Show 2013
Today- Sunday 10am - 9.30pm, Monday 10am - 5pm ASB Showgrounds, 217 Greenlane West, Auckland
* Takapuna's Giant Easter Egg Hunt
Today, 4pm Hurstmere Green, Hurstmere Rd, Auckland
* Easter Downtown
Friday - Sunday 9.30am - 9pm, Monday 9.30am - 5pm Queens Wharf and Fanshawe St, Auckland
* Waiheke Island Jazz Festival
Friday, 12pm - 6pm Rangihoua Estate, 1 Gordons Rd, Auckland
* Motat Model Air Show
Saturday and Sunday, 11am-3pm Motat, Meola Road, Western Springs, Auckland.
* Whangarei Fritter Festival
Saturday 11am - 7pm Northland Events Centre, Okara Park, Okara Drive, Whangarei.
Music from Batucada Sound Machine, Sola Rosa, and The Black Seeds.
* Easter Family Festival
Saturday 10am - 3pm Downtown Mount Maunganui.