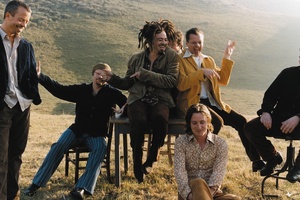 American band Counting Crows have cancelled all of their New Zealand shows after pulling the plug on their Wellington gig at the last minute.
The band was scheduled to play the Michael Fowler Centre in Wellington on Saturday night, but postponed until yesterday due to illness.
Fans were let into the venue and watched the opening act last night before a band member announced, almost an hour later, that the show was cancelled.
Live entertainment company Live Nation later announced all of the band's New Zealand shows - including tonight's show at Auckland's Civic Theatre - had been cancelled due to illness.
"Counting Crows and Live Nation sincerely apologise for the inconvenience and advise all ticket holders to seek a refund at the point of purchase."
The eleventh-hour cancellation has disappointed Wellington fans, who vented their frustration on Twitter.
"Bad form, Counting Crows. Very bad form," Carmen Taylor tweeted.
Music blogger Simon Sweetman said the band had let Wellington down, describing their actions as "lame".
In a tweet referencing lead singer Adam Duritz's dreadlocks, Sweetman said: "Can you choke on a dread? I imagine Adam from Counting Crows will if one of the band's Wellington fans finds him tonight ..."
Sweetman earlier tweeted there had been a "fairly poor turnout" at the postponed show.
The Wellington gig had looked on track to go ahead yesterday afternoon, with Duritz posting a photo of himself at sound-check on the group's Facebook page.
"My voice works! Sweet," he said.
Fans planning to attend tonight's show in Auckland are also feeling let down.
Auckland writer Paul Scoones tweeted: "Dismayed to learn that Counting Crows have cancelled their Auckland concert. I was taking Rochelle to this for our wedding anniversary."
Ticket holders trying to get a refund have also vented their frustration.
In a post on Live Nation's Facebook page this morning, Aucklander Jamie Swanson said event promoter The Edge was "still hanging out for a confirmation of the cancellation".
- APNZ