When there's no jazz festivals on, what are your options for hearing some? Alan Perrott goes looking. Dean Purcell took the photos.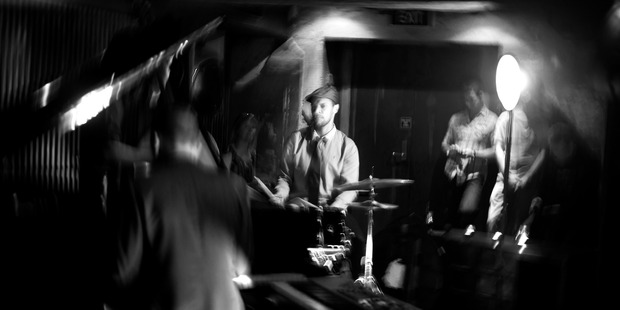 What is it about jazz?
You can ignore it, misunderstand it and write if off, but it never quite goes away.
Genre-jumping musician Julien Dyne might have an explanation: "You have to exist, you know? You have to play. So in the end your choices are play or don't play, create an opportunity or stay at home."
Once you've got enough people thinking the same way all you need is something to bring them together and you've got a scene that can survive on its own terms.
Something like Roger Manins' piano.
He packed his sax and left New Zealand 22 years ago to learn and play in Australia and New York. When he returned in 2004 he brought new ideas with him. As well as teaching at Auckland University's jazz school, he and wife Caroline kicked off the Creative Jazz Club of Aotearoa (CJC) at Ponsonby's Cafe 121 - based on a similar model in Sydney - and began hosting performance nights.
So, when ex-pat piano legend Mike Nock passed through on his way to see his mum in Christchurch, it seemed natural to invite him to play.
The Manins were in the process of moving to the basement of 1885 Britomart (reminiscent of High St's now-demolished Cause Celebre), but they still lacked an instrument worthy of his talent.
One personal loan later and they had a $30,000-plus piano that doubled as a serious statement of intent.
"With that in place and an audience that comes to listen we were able to create a space that supports original material and where musicians wouldn't feel any pressure to play The Girl From Ipanema one more time."
From Nock's first Wednesday showcase, the weekly CJC nights have become the subterranean heart and soul of Auckland jazz.
Their membership sits at about 180, their mailing list is knocking on 1000, they regularly fill their 65-person capacity, venue and they've hosted 27 international artists over the past year. Which isn't to say CJC is remotely mainstream but, like The Dude, it abides, a condition that has a lot to do with Manins' credibility - aside from a mile-long playing CV the 42-year-old won the saxophone title at Australia's 2002 International Jazz Awards and was last year honoured as a Jazz Hero by the international Jazz Journalists Association.
He's helped fill a large musical hole. When the London Bar on Queen St closed, Auckland jazz found itself riffing between two poles, the Jazz and Blues Club at the Pt Chevalier RSA and the eccentric improvisers of Vitamin S in the Wine Cellar off K Rd. The CJC falls somewhere in the middle to become a testing ground where young performers can front up to an educated audience in a decent venue. It should create a flow of new acts able to make the step up to festival level and, who knows, even end Nathan Haines' loneliness as the only jazzster most people can name.
Such collectives are vital says Manins: "Every city needs one, they've made the difference in Australia. They enrich and they inspire. Look at Wellington - they don't have one and there's a real lack of venues there. They're at an all-time low really."
Not only do these groups bring together like-minded people, the membership fees and door charges also provide money to help attract international artists.
Another collective has popped up in Christchurch, based around the CPIT jazz school, and links are growing between the two.
Even better, CJC has unofficially joined the Australian tour circuit with the twin carrots of a jammed gig and a workshop at the jazz school making the trip affordable. All going well, Christchurch should be able get in on the action as well.
But even as this evolution continues underground, the music's influence is blooming.
The days of jazzsters being happy to stick to their knitting are long gone and artists like Julien Dyne are becoming the norm. Outside jazz, he also backs Ladi 6, has played with The Opensouls, and made a name for himself as a producer of electronic future soul, work he now tours internationally.
When you throw in the Wellington jazz graduates who went on to create The Black Seeds and Fat Freddy's Drop it would seem jazz players are hidden in plain sight everywhere.
"It's hard to even know what jazz is now," says Dyne. "I think it's more of an attitude, about instilling a feeling into what you're doing. The straight-ahead jazz thing still goes on, but I think more players are now exploring wider realms where that attitude and feeling still seep through ... I mean look at Fat Freddy's, they have these long, five to 10-minute solos that can go anywhere and you could argue that they're just one step removed from jazz. It might not be about walking basslines, but the sensibility's still there."
Not that anyone should be surprised. As Dyne says, jazz has always been happy to blur boundaries; from Herbie Hancock messing around with synths and drum machines to the old-school samples used by Tribe Called Quest, virtuosity cannot be fenced in. For instance, on any given Wednesday you could take in the, let's say purist jazz at CJC, then catch the anything-goes approach of Dyne's group at Ponsonby Social Club before skipping along to Grand Central for the Alan Brown Project. That's a Wednesday. In Auckland.
Mark Robinson was part of this scene as it was kicking off. The expat Englishman spreads the gospel wherever he finds himself and ran the jazz show on George FM for several years. Now in Adelaide, and back on the radio, he's missing Auckland and wishes he could see what CJC has created.
"As an outsider I always felt this tension between the people who came through Auckland and Massey [university jazz schools] and I really hoped this could bring everyone together."
As compere during CJC's early days he saw several new faces go from nervy wrecks to pros over a few months.
And that calibre of performance was infectious: "You had these young bands getting together and creating good quality sets, then the older guys would say, 'bloody hell, I've got a gig coming up, I better get in some practice as well'. We had a whole lot of aims for that place and I think we achieved them all, which made us really proud. I miss it actually."
Where things head from here depends on Manins and money: "If you're talking growth, we're taking everything really slowly, fulltime jazz clubs go broke and right now we're happy to focus on one thing and do it really well. I'd say it's getting better and better, and for a small city like Auckland to have something like CJC, even one night a week, makes me feel good about living here. Sure, it takes a lot of energy, but shouldn't you want to do good where you are? If you don't and you're not feeling good you may as well piss off."