Prepare to do some serious thinking during Jane Campion's series, writes Nick Grant.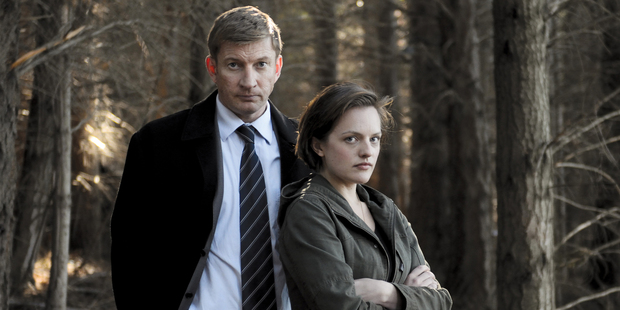 If what you seek when turning on the telly is escapist entertainment that enables you to switch off and disengage, then move along, there's nothing to see here. (And hey, there's no judgment there, either - I frequently use TV as a way of inducing a kind of short-lived lobotomy; programmes involving food preparation are especially efficacious.)
If, however, you welcome the opportunity to watch a story that wrestles with the weird, messy business of being human and refuses to offer up definitive answers to the existential questions it poses, then boy oh boy, you're likely to love Top of the Lake.
The six-part series was created by Jane Campion (best known in New Zealand for The Piano and An Angel at My Table) with co-writer Gerard Lee and co-director Garth Davis. Clearly the three have a strongly shared sensibility because the result of their collaboration is an utterly singular vision.
Set in the fictional town of Lake Top, the show was filmed in and around Queenstown, and rarely has New Zealand's landscape looked so magnificent - or menacing.
The opening scene sets the tone, with 12 year-old Tui (an amazingly assured Jacqueline Joe) wading waist deep into a lake still shrouded in early morning mist. It's an eerily beautiful image but one loaded with a looming sense of threat - to spend long in the water means freezing to death.
When a passer-by prevents that possibility, it's discovered Tui is five-months pregnant, the victim of statutory rape. As producer Philippa Campbell puts it, her body is now a crime scene.
In the area visiting her cancer-stricken mother, Detective Robin Griffin (Mad Men's Elisabeth Moss) is called in to help, thanks to her specialist experience with child protection cases. When Tui disappears shortly after an inconclusive interview, Robin is tasked with finding her, a quest that powers the series' plot and threatens to consume the policewoman.
All of which admittedly sounds superficially very similar to The Killing (both the Danish original and the inferior American knockoff), not to mention Twin Peaks.
Indeed, Top of the Lake has been frequently compared to David Lynch's early '90s TV show, thanks to their shared set up of an out-of-town cop pursuing a case on the edge of the wilderness, as well as their large ensemble casts of eccentric characters.
Offering the most obvious dose of kookiness in Top of the Lake is androgynous guru GJ and her female followers, who set up a campsite/commune in the opening episode. GJ's played by Holly Hunter, who Campion directed to a Best Actress Oscar in The Piano, and to begin with she and the other women seem like the light relief, with plenty of laughs at the expense of the New Age nonsense they habitually mouth. As the series progresses, though, their characters grow more complex and the wisecracks give way to intimations of wisdom.
Our understanding of the other characters also deepens, whether they be a violent criminal (War Horse's Peter Mullan), his thuggish sons (Go Girls' Jay Ryan and The Cult's Kip Chapman), or an old-school policeman (Lord of the Rings' David Wenham).
Top of the Lake's genius is that by the time it concludes, the initial puzzle may have been solved but we've been invited to investigate much larger mysteries - those of the human heart and life itself.
Top of the Lake begins on UKTV tomorrow at 8.30pm.