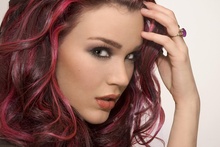 Prosecutors say two men accused of plotting to rob and kill soul singer Joss Stone planned to decapitate her, then dump her body in a river.
The suspects, Junior Bradshaw and Kevin Liverpool, were arrested in June 2011, close to the singer's house after suspicious neighbors reported them to police.
They never reached her house.
Opening the case at Exeter Crown Court, prosecutor Simon Morgan told the jury that the pair, ages 32 and 35, set off from their home in Manchester with a samurai sword, knives, a hammer, black bags and gloves for Stone's house in Devon.
The men were allegedly part of a gang that hatched the plot, but other members could not be traced.
Morgan said that handwritten notes found in the suspects' car made reference to "decapitate," another read "Jocelyn RIP" and a further note said: "Once Jocelyn's dead ... find a river to dump her".
Prosecutors said "eagle-eyed" residents spotted them driving suspiciously in the area of Joss' property. Police were called and the men were subsequently stopped and arrested.
Stone was at home at the time of the arrests.
The motive for the plot wasn't clear, but Morgan said the men may have targeted Stone for her money or because they disliked her links with the royal family.
The notes indicated that the pair disapproved of Stone being invited to Prince William and Kate Middleton's wedding in 2011, he said.
The trial is expected to last up to three weeks and Stone is not expected to be present in court during the trial.
After the incident, Stone said she was "baffled" by it and didn't understand why she was targeted.
She said: "I'm fine, if slightly baffled by it. I can't stress about what didn't happen, that would seem silly. Every job has positives and negatives and I guess this was one of the negatives that comes with mine.
"I don't expect life to be perfect. I just try to make it as fun as possible."
The defendants deny all charges. The trial continues.
- AP with Bang! Showbiz