New Disney blockbuster collects $340m worldwide over two weeks.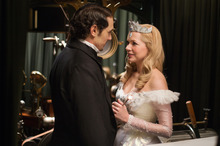 Oz the Great and Powerful is living up to its name at the North American box office.
Disney's 3D blockbuster led all films for the second week in a row, taking in US$42.2 million ($51.3 million) according to studio estimates yesterday. Sam Raimi's prequel to the L. Frank Baum classic The Wonderful Wizard of Oz also took in US$46.6 million overseas, for a two-week worldwide total of US$281.8 million.
That makes Oz easily the biggest hit of 2013 so far.
"Boy, did we need it," said Paul Dergarabedian, box-office analyst for Hollywood.com. "There have been a lot of box-office casualties this year. This is the shot in the arm that we needed, but we're still waiting for the marketplace to gain some sort of momentum."
The US-Canada box office is down nearly 13 per cent from last year.
-AP
Ticket sales
1 Oz the Great and Powerful US$42.2 m
2 The Call $17.1m
3 The Incredible Burt Wonderstone $10.3m
4 Jack the Giant Slayer $6.2m
5 Identity Thief $4.5m
6 Snitch $3.5m
7 21 and Over $2.6m
8 Silver Linings Playbook $2.6m
9 Safe Haven $2.5m
10 Escape From Planet Earth $2.3m
US and Canadian theatres, Hollywood.com
By Jake Coyle