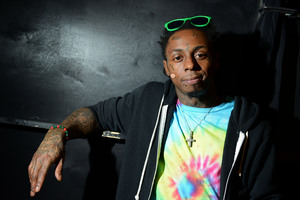 Lil Wayne insists he is fine following reports he was near death.
According to TMZ the 30-year-old rapper was rushed to Cedars-Sinai Medical Center in Los Angeles on Tuesday after having a seizure while filming the music video for Nicki Minaj's new single, High School, before being released on Wednesday, and readmitted after another seizure.
It was then claimed he was given his last rights and his mother was on her way to Los Angeles to make the final decisions on his care.
However, Lil Wayne has denied the reports and took to his Twitter today, telling fans: "I'm good everybody. Thx for the prayers and love (sic)."
Mack Maine, president of the rapper's Young Money record label, was also quick to rubbish the reports, insisting he and Lil Wayne were watching a basketball game together at the same time as it had been suggested the star was being given his last rights.
He tweeted: "Wayne is alive and well! We watching the Syracuse game...thanks for the prayers and concern..he will update you all soon. #love
"...dont believe the nonsense about comas and tubes to breathe...that's false!!
- BANG! Showbiz