The New Normal caused controversy before it even aired. Sarah Lang finds out why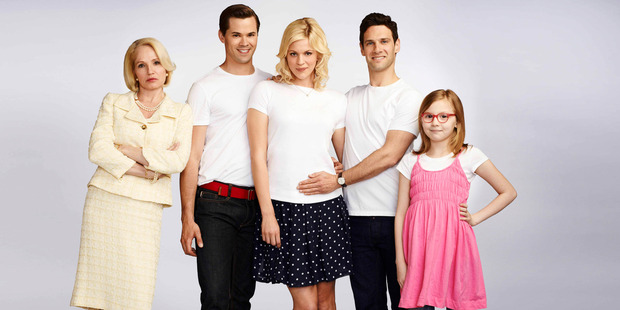 Last July, conservative Christian group One Million Moms called for a boycott of The New Normal, an NBC comedy about a surrogate helping a gay couple to have a baby.
Even though the show hadn't yet premiered in the US, One Million Moms accused NBC of "subjecting families to the decay of morals and values, and the sanctity of marriage in attempting to redefine marriage. These things are harmful to our society, and this program is damaging to our culture."
Ironically, One Million Moms just drew more viewers to the 2013 People's Choice Award winner (Favourite New TV Comedy) - and drew this comeback from Ryan Murphy, the show's creator and one half of a gay couple. "I find it interesting that they would take a position before they've seen it. If they watch the show, I actually think they would love it!
For the first time they will be represented." Indeed, the surrogate's nana Jane (Ellen Barkin) is a proud OMM member who, later in the series, will teach anti-gay chants to girls she dubs future One Million Moms.
Based on Murphy's own grandmother, Jane is someone who'd be awful in real life but is a hoot onscreen. She's not so much the character you love to hate as the character you love because her narrow-mindedness and nastiness will annoy One Million Moms. "Nana, you're a bigot," says her 8-year-old great-granddaughter, tapping away on some device. "I'm unfriending you."
But though you'll dislike bigot Nana, you'll love badass Nana, who delivers her barbs with comedic timing not unlike that of Downton Abbey's Dowager Countess. "I can't think of anything else to do except to kill you," Jane calmly tells her granddaughter's cheating boyfriend. "Now, unfortunately, I couldn't live in prison without my Lean Cuisine, so I'm open to other options."
Barkin's the best thing about the show, but she has good backup. Andrew Rannells (Girls) plays up the camp factor as the clucky Bryan, Justin Bartha (The Hangover 2) is solid as his rock of a partner David, Georgia King (Screen International's "Star of Tomorrow") plays surrogate Goldie, and Bebe Wood excels as Goldie's precocious daughter Shania.
Formerly a waitress, Goldie plans to use the surrogacy payment to turn hers and Shania's lives around - oh, and help a loving couple fulfil their baby dream, of course. In turn, Bryan and David want to help Goldie fulfil her dream of becoming a lawyer. Cue their gift of a law suit (an outfit, not a civil action) in a scene drizzled in all-American cheese.
However, unlike many comedies, the humour doesn't feel like the upshot of too many bad brainstorming sessions. It's funny more often than not. And it's equal-opportunity humour, satirising not just bigots but also gay couples who covet a child as the ultimate accessory. "That is the cutest thing, I must have it," says Bryan, out clothes shopping. It's a baby. "I want us to have baby clothes - and a baby to wear them," Bryan tells David later. "Sweetie," David counters, "you know you can't return a baby to Barneys."
Later, they meet surrogacy-agency rep Gary. "I'd like a child who doesn't cry - is this extra?" Bryan asks. "It's impossible," David retorts. "Not for a platinum member!" Gary cries. It's not every comedy that can address a serious subject with humour but without taking itself too seriously.
The New Normal premieres Friday, 8pm, TV3.