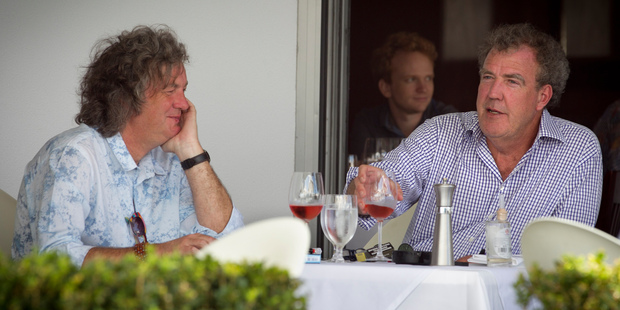 Top Gear stars Jeremy Clarkson and James May toasted the end of their time in New Zealand over a long lunch at the Viaduct - and plan to give the country a ringing endorsement.
Clarkson and May enjoyed the sun and glasses of rose at an outside table at Euro restaurant on Princes Wharf yesterday afternoon.
Afterwards, Clarkson said he had enjoyed his time here so much that he was making it a subject of his column in the London Sunday Times.
"It's fantastic, you must read the Sunday Times this Sunday, I've just filed my column, and it is very flattering about New Zealand."
He said they were sad to be leaving New Zealand's golden summer for Spitzbergen, the largest island of the Svalbard archipelago in Norway.
The BBC show has been in the country for filming, including a race from the Coromandel Peninsula to the Far North between a car and an America's Cup yacht.
The Herald understands that the yacht was an AC45 catamaran and was skippered by Sir Ben Ainslie, Britain's most successful Olympic sailor and Oracle team member.
Although the race took place on Tuesday evening, more filming - some from a helicopter - took place on the beach yesterday.
Some fans had been left disappointed after travelling to Ninety Mile Beach to see the crew.
"Sadly the news agencies here got the wrong end of the stick. I apologise, I really do apologise profusely to all those people who turned up there," Clarkson said.
"But we never said we were going ... nobody really knows what we were doing, and we'd never tell anybody because that would spoil the programme for everybody else.
"So I apologise, but we had a job to do, we came here, we did it, and now - sadly, very sadly - have to go home, where it's two degrees and snowing."
The race on Ninety Mile Beach raised the ire of some iwi because of a lack of consultation, for which the Far North District Council apologised.
Asked about the controversy, Clarkson said it was "above my pay grade".