Sitcom star's age-gap romance inspired by college reunion.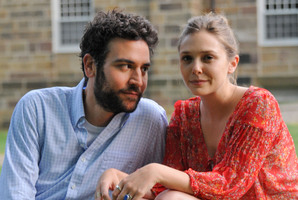 When How I Met Your Mother star Josh Radnor wanted to cast his old friend Elizabeth Reaser, from Twilight fame, in his new movie Liberal Arts, he almost forgot how she might take offence.
In Liberal Arts, Radnor's character Jesse argues with college student Zibby (Elizabeth Olsen) about why she loves these "terrible vampire romance books". While they're not referred to as the Twilight books specifically, the hints are obvious.
Luckily Reaser, who plays a small part in Liberal Arts, but also the vampire Esme Cullen in the Twilight movies, found the connection funny.
"She read the script and she loved all the Twilight jokes," Radnor says.
"We've been friends for years and always wanted to work together ...
"It wasn't until right before [she was cast] that I remembered, 'oh yeah she's in those movies'."
Liberal Arts is the second film Radnor has written, directed and starred in, and the idea for it actually came about thanks to his first movie, Happythankyoumoreplease.
Radnor was visiting his old college in Ohio to screen Happythankyoumoreplease for the students, when he was struck by just how old he felt.
"I just started thinking about time and nostalgia [and] this idea of worrying that your best days were behind you."
From there sprung the idea for Liberal Arts, about Jesse [Radnor], a 30-something who goes back to his college for a professor's retirement party and falls for a much younger student, Zibby.
Olsen, the younger sister of twins Mary-Kate and Ashley, became well-known last year after wowing audiences in the psychological thriller Martha Marcy May Marlene.
But When Radnor first met and cast Olsen, she was essentially an unknown.
"We have the same agent and my agent insisted that she was the only person for the role. She was right. But no one really knew who she was. I didn't have this idea of her as the kind of doe-eyed cult baby.
"I really saw her as Zibby."
He says the role of Zibby was "so beautiful in her hands" because Olsen has that mixture of maturity and youthfulness.
"Even though she's got a kind of old soul quality, when she gets excited, she'll have this adolescent goofiness come out."
He says it was perfect for Zibby, because her sophistication bewitches Jesse, but her childishness makes him question his feelings for her.
"There's not that much dramatic heft to the story, so I created a character who had certainly a lot less going on in his life [and] is much more shut down and sadder ... so we could watch someone with some place to grow and go."
Movie profile
Who: Josh Radnor, sitcom star turned film director
What: Liberal Arts with Elizabeth Olsen
When: Opens at cinemas tomorrow
-AAP