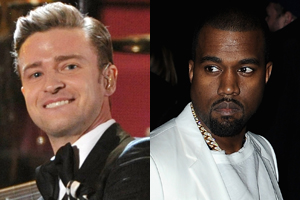 Justin Timberlake has hit back at Kanye West and mocked Hugo Chavez on Saturday Night Live.
The Suit & Tie singer - whose song with Jay-Z was slammed by the All of the Lights rapper in an expletive-laden diatribe last month - dismissed Kanye's insults while performing the song on the comedy sketch show and implied he is just jealous.
The 32-year-old singer changed the lyrics of the song from "Aww, s**t so sick, got a hit and picked up a habit" to "my hit's so sick got rappers acting dramatic."
Kanye - who is expecting his first child with girlfriend Kim Kardashian in early July - hit out at Justin, who collaborated with his Watch the Throne partner on the track, during his intimate gig at London's Hammersmith Apollo last month.
He told the crowd: "I've got love for Hov but I'm not down with that suit and tie s**t."
Timberlake also mocked Venezuelan president Chavez during the show.
He dressed as Elton John and sang a reworked version of Candle In The Wind, with its lyrics changed to reflect the life of the dictator.
He sang: "You said the US causes earthquakes and you outlawed Coke Zero. And on your shoulder sat your parrot with a matching red beret."
Timberlake is now one of only five people to host SNL five times.
The singer won rave reviews for his performance, which included cameos from Steve Martin, Chevy Chase, Dan Aykroyd, and Martin Short.
- BANG! Showbiz