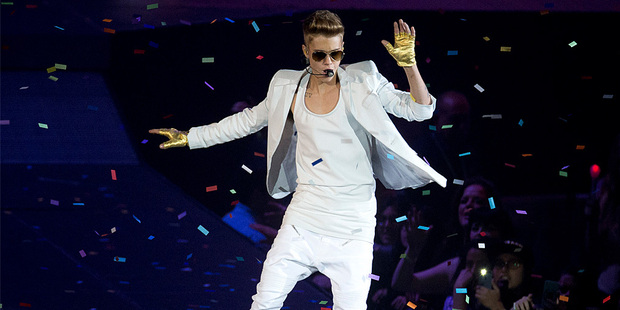 Justin Bieber's grandparents want him to make amends to his fans with a free concert.
The 19-year-old singer's recent time in the UK has been marred by a public meltdown which included turning up two hours late for a show at London's O2 Arena and trying to attack a photographer.
While his grandmother Kathy, 56, doesn't believe he is a "bad boy" she does feel he has fallen in with the wrong crowd and needs to make it up to his fans in a big way.
She told the Daily Star Sunday newspaper: "I don't think for one moment this is all about him being a bad boy. He's only just turned 19 and he's still learning to cope with the pressures of fame.
"But it's worrying. You read all sorts of things about him partying and he needs to understand some of those so-called friends probably don't have his best interests at heart.
"I know he will be feeling depressed about the way things have gone in London, so maybe it would be a good idea if he were to go back there later and perform free for the fans who feel let down by him."
Meanwhile, the Sunday People newspaper has reported his meltdown is because of his split from Selena Gomez in January after around two years together.
A source told the publication: "He simply hasn't been the same since he split from Selena. It really broke him.
"They were together for such a long time for two people so young. He hasn't quite known what to do without her.
"He is lonely. They kept each other very grounded and understood the level of fame that they both had. Now his friends know he needs their support more than ever."
- Bang! Showbiz