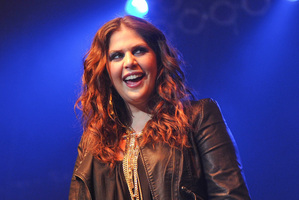 The Lady Antebellum singer - who married drummer Chris Tyrell in January 2012 - revealed her pregnancy on her Facebook and Twitter pages in December and has now confirmed the new addition to their family will be a daughter., according to Us Weekly.
While Chris is a touring drummer for Lady Antebellum, Hillary previously revealed the couple rarely travel together when on the road.
She explained: "He'll hop on the busy with me. Charles [Kelley] and Dave [Haywood] every so often but he rides the band bus with the rest of our band, because he wants to stay in tune with them.
"There are conversations that Charles and Dave and I need to have too.
You have to separate it a little bit and thankfully - knock on wood and praise God - it's been such a smooth transition."
However, the couple do grab time together they can.
Hillary added: "There is only so much time when there aren't people around for Chris and I to talk and work through a first-year marriage.
We're going to leave the bus for a weekend or two here or there throughout next year. Just because making sure we're on the same page really is what's most important in my life now."
BANG! Showbiz