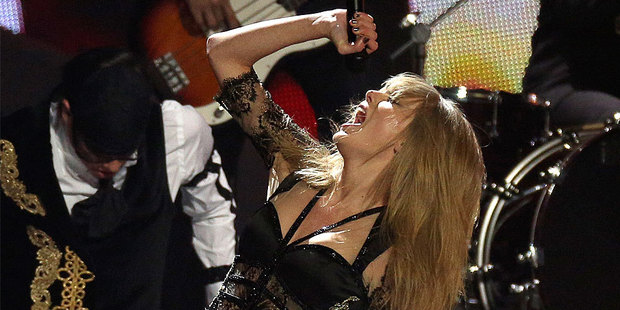 Taylor Swift is tired of being portrayed as a "clingy and insane girlfriend".
The singer-songwriter has had a series of high-profile romances with stars including Jake Gyllenhaal, John Mayer, Taylor Lautner and most recently, Harry Styles.
Swift is renowned for discussing her relationships in songs, but has denied she is "boy crazy".
"For a female to write about her feelings, and then be portrayed as some clingy, insane, desperate girlfriend in need of making you marry her and have kids with her, I think that's taking something that potentially should be celebrated - a woman writing about her feelings in a confessional way - that's taking it and turning it and twisting it into something that is frankly a little sexist," she tells the April edition of Vanity Fair.
Swift also addresses rumours surrounding her private life.
She denies dating a string of famous guys, but confirms she had a relationship with Conor Kennedy and One Direction heartthrob Styles.
"If you want some big revelation, since 2010 I have dated exactly two people," she explained.
"The fact that there are slide shows of a dozen guys that I either hugged on a red carpet or met for lunch or wrote a song with it's just kind of ridiculous. It's why I have to avoid the tabloid part of our culture, because they turn you into a fictional character."
Swift also addressed rumours about her brief romance with Conor, whose father is Robert F Kennedy Jr.
While they were together, reports surfaced that Swift wanted to buy a mansion near his family home in Cape Cod, Massachusetts.
The 23-year-old star has developed a way to deal with untruths circulating about her.
"People say that about me, that I apparently buy houses near every boy I like - that's a thing that I apparently do.
"If I like you I will apparently buy up the real-estate market just to freak you out so you leave me," she revealed.
"One of these things I say to myself to calm myself down when I feel like it's all too much... If there's a pregnancy rumour, people will find out it's not true when you wind up not being pregnant, like nine months from now, and if there's a house rumour, they'll find out it's not true when you are actively not ever spotted at that house."
- Bang! Showbiz