Wire star talks about his role in post-Katrina drama, Treme.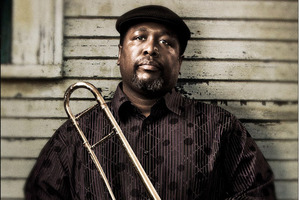 Many TV addicts mourned at the end of The Wire, the gritty Baltimore cop drama series from David Simon and Eric Overmyer.
But those who followed Simon and Overmyer to Treme, their new series set in post-Katrina New Orleans, rejoiced when they brought some of The Wire's actors along.
Among them is Wendell Pierce, who plays trombonist Antoine Batiste whose role as detective Bunk Moreland in The Wire won nominations and awards.
So how is it playing a jazz man, given that you're the host of jazz at the Lincoln Centre in New York?
Antoine is basically a ne'er-do-well who really loves music, knows that he has a talent and that if he would focus more he could go to another level. He's starting to wonder if his best days are behind him or in front of him and will he actually have a say in this? He's taken a teaching job for the steady pay cheque and he has an epiphany about teaching the kids - saying, I'm a part of a longer legacy of passing down the tradition.
So you see an awakening.
Does he become a better father?
I think so. It's not overnight for Antoine. He starts to realise the error of his ways. He still has a lot of issues, but I think he becomes a better father. He definitely becomes a better musician, but more importantly he becomes a better artist in the truest sense of the word - someone who's trying to create something that's going to be tangible.
What are the big themes?
We look at the politics involved in the restoration. Jon Seda's Texas character is all about how people are playing the recovery for their own best interest. The community is saying, "we almost lost it. We're not only going to bring it back, we're going to bring it back better". But there are still the vestiges of highball politics, and a tale of two cities, uptown and downtown.
The authority figures - the police and Noah [New Orleans Affordable Homeownership agency] - seem destructive.
Treme is a fictionalised documentary so we honour what chronologically was happening - and at this time we started to see how Noah was having a corrupt impact on folks, denying people opportunity to have access to the recovery dollars to get back in your house. Then there's some police abuse of the highest order - we all were told we should honour these police for staying behind and then we find out the true story of how some acted in the most horrific way.
How has New Orleans reacted to Treme?
I was concerned about authenticity. Being from New Orleans I felt a personal responsibility. But people realised and appreciated the authenticity. It became a communal event, Sunday night watch parties all over New Orleans. There was one guy who said, "I didn't realise how much pain I was in about losing my house until I saw Clark open his door and heard this squish of mud. I had a sudden memory of how I entered my house, how that sounded and I broke down. It took Treme to make me realise, wow man, I'm still in pain. I lost everything".
Do you think that Treme has helped Americans understand the storm and the city more?
Yeah, the thing that people in New Orleans appreciate also is that we keep the importance of New Orleans and the plight of New Orleans in the discussion. It's not that people believe we haven't overcome it, but we have to realise that this wasn't something that was going to be solved overnight; this will be marked in decades. The other thing is it offers a demonstration of some of the best of what New Orleans has to offer - the culture, the food, the uniqueness of this grassroots ritual, the tradition of second lines and Mardi Gras Indian gangs and these working class black men who sew. And the pride in the suit that they're making - the biggest compliment is, "boy, you look pretty".
How's your trombone playing?
My trombone playing, speaking of discipline or craft is not as good as it should be but it's better than it was.
Do you still have someone to play the solos alongside you?
Yeah, Stafford Agee, who plays with Rebirth Brass Band, he's great. And also Keith Hart, who is the teacher I assist in the band room, he's my real trombone teacher and that's his real band he teaches.
TV Profile
Who: Wendell Pierce
What: Treme Season Three
Where and when: SoHo, Wednesdays 9.30pm
-AAP