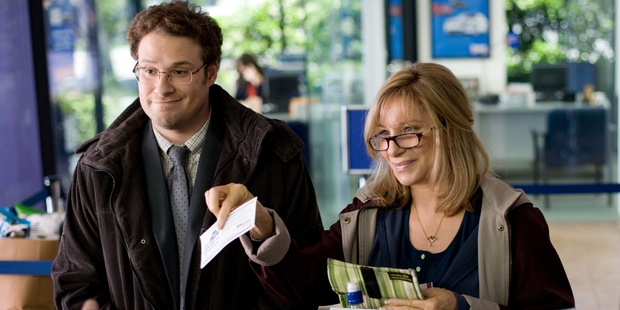 The film career of actor/writer/producer Seth Rogen is a curious thing - he's done fantastic work in films overseen by comedy mentor Judd Apatow (such as Knocked Up, Superbad and Pineapple Express), but he struggles in non-Apatow productions like The Green Hornet.
The latter effect rears its head in this low-key comedy, in which Rogen stars as Andy, a chemist who has developed a new organic cleaning product. When he heads off on a cross-country trip to pitch his product, Andy invites his mother Joyce (Barbra Streisand) to come along on the pretence of them spending time together. But Andy is secretly planning to reunite the perennially single Joyce with a former flame.
This film is clearly founded on the casting of Streisand and Rogen as mother and son, but that was never going to be enough to carry it through. Unfortunately, there isn't a huge amount to the script and a dearth of decent jokes. Rogen's slightly irritated demeanour comes off as churlish for the most part here, rendering Andy an unlikeable character.
Old pro Streisand knows how to elicit empathy from an audience, however, and she's pretty appealing for the most part. But while I appreciated that this wasn't aiming for Focker-style broad toilet humour, there really needed to be a few more lively set-pieces than Joyce's attempt to eat a giant steak.
The road movie comedy is an American institution and while The Guilt Trip remains relatively inoffensive and not hard to sit through, it doesn't come anywhere near to it's clear inspiration (and the best example of the genre): 1987's Planes, Trains and Automobiles.
Stars: 2/5
Cast: Barbra Streisand, Seth Rogen
Director: Anne Fletcher
Rating: M
Running time: 95 mins.
The Guilt Trip is out now.