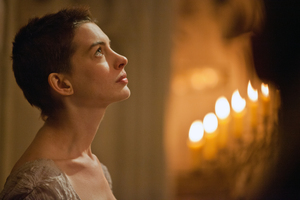 Anne Hathaway is to follow her Les Miserables role by appearing in another movie musical opposite a real life rock star.
The Devil Wears Prada star has won critical acclaim and numerous awards for her turn as Fantine in the film adaptation of the popular stage show, and she will be among those competing for an Oscar at the Academy Awards on Monday (NZ time).
It has now emerged Hathaway is keen to continue singing on screen and has signed up for a starring role in a new music-based movie called Song One, which is being produced by her husband Adam Shulman.
She will star opposite real life rocker Joe Flynn, a Brit who fronts a band called Johnny Flynn And The Sussex Wit, as an archaeologist who falls for a musician, according to Britain's Daily Mail newspaper.
The rocker will perform most of the musical numbers, but one song will be a solo performance by Hathaway.
Filming will begin later this year.
- WEN